Syria-UAE ties are growing after Iran-Saudi deal – analysis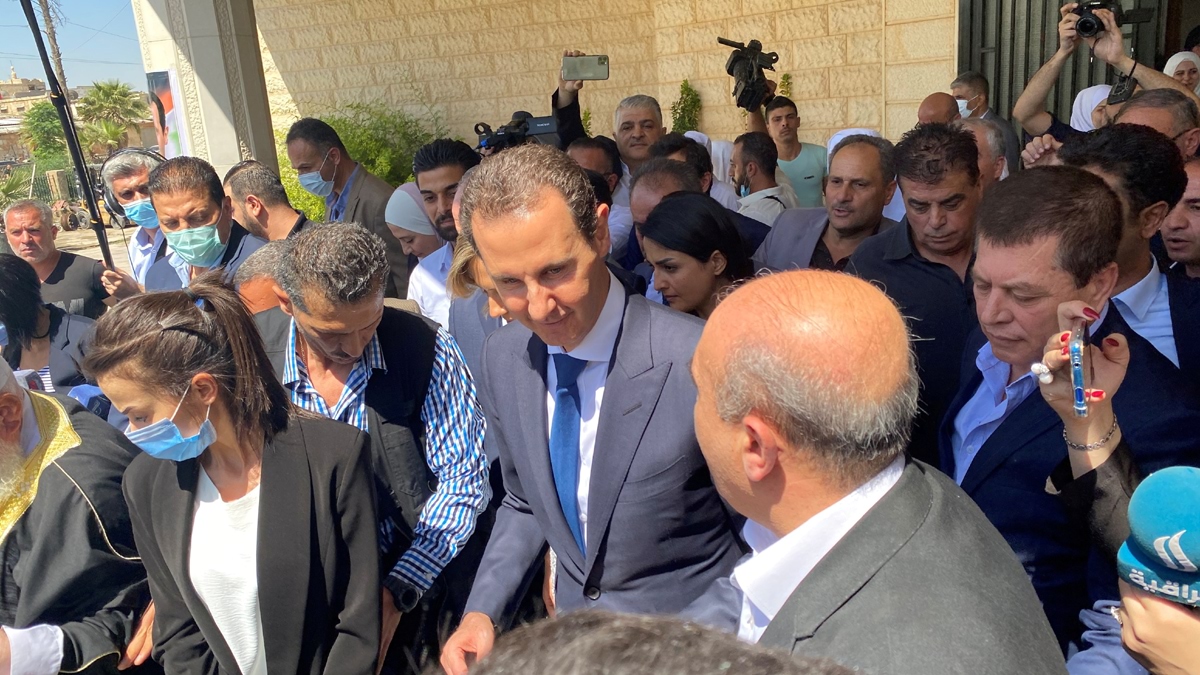 2023-03-20T19:53:56+00:00
Shafaq News/ Syrian President Bashar Assad and wife, Asma, arrived in the UAE on Sunday. This important visit follows a rush of activity for Damascus, after Assad traveled to Oman and Russia.
He first traveled to the UAE in March of last year, inaugurating a new era of diplomatic success. The UAE is a key partner in the Abraham Accords, while Syria has no relations with Israel.
The Syrian regime clearly believes it is moving back to its former role in the region. After a decade of civil war, Damascus feels confident again. Nevertheless, northern Syria is still occupied by Turkish forces and armed groups, and the US-backed Syrian Democratic Forces operate in eastern Syria along with some US troops.
The UAE and the Assad regime have been patching up their ties slowly over the last several years. The UAE was already doing more open outreach back in 2018. However, the Gulf country likes to move slowly and systematically. This began with the first Assad visit in 2022, and then Sheikh Abdullah bin Zayed, the UAE's foreign minister, visited Damascus this past February.
Growing ties
Assad's trip this week will be watched closely in the region. The ties between Abu Dhabi and Damascus are clearly a priority for both countries. That the regime leader has made three trips to the Gulf, including a visit to Oman, showcases how Syria believes it can secure many of the things it needs from the region. That Damascus has also twice welcomed Zayed to Damascus this year shows how progress is being made.
This time, the delegation with the Syrian leader includes the ministers of economy, information and the assistant foreign minister. It's clear that these symbolic meetings are part of a wave of diplomacy in the Middle East.
Saudi Arabia and Iran have decided to reconcile their ties as part of a process brokered by Iraq and China. In addition, Turkish Foreign Minister Mevlut Cavusoglu met with his Egyptian counterpart recently in Cairo. Ankara wants to "restore diplomatic relations between the two countries at the highest level," he said. This could include a meeting of the presidents of both countries.
"It is possible that we will disagree in the future, but we will do everything to avoid breaking our relations again," Cavusoglu said. This is a big shift in language for Ankara, after years when it was threatening Egypt. It comes on the eve of elections in Turkey, which are supposed to take place in May.
The changes in the region come as there is a rising perception that the US is less focused on the Middle East. Russia's invasion of Ukraine also means Moscow is not as focused on the region either. This means that regional powers have decided to strike out on their own and repair relations. It may be that they feel they need to repair ties in a more uncertain world in which conflicts have not brought them the success they believed would come through wars, interventions and invasions.
For instance, Saudi Arabia and Iran have fought a proxy war in Yemen since 2015. The UAE also intervened in Yemen. Countries such as Qatar helped back rebels in Syria in the early days of the war there. But many countries seem to think that it's time to get out of the business of proxy wars and funding militias and instead focus on high-level diplomacy.
The Assad trip to the UAE could culminate in more ties in the Gulf and also a meeting with Turkish officials. Those are the key questions after this trip. How will the new ties with the UAE reshape Syria? Will it result in any change in relation to Syria's ties with Iran and Turkey or Qatar? What role will it have in Syria's ties to Egypt and Jordan?
One of the issues in Syria's reconciliation with countries in the region is that it continues to host Iranian forces that threaten Israel. Israel has said in the past it does not accept Iranian entrenchment in Syria.
Syria's new ties with various stable countries may be entirely a track of their own with no bearing on the Iranian issue in Syria. Insofar as Iran undermines Syria's stability, however, this may be an issue of concern for countries doing new business with Damascus.
Source: The Jerusalem Post