Islamic Jihad Fires Anti-Aircraft Missiles and Long-Range Missiles, Israeli Airstrikes Continue in Gaza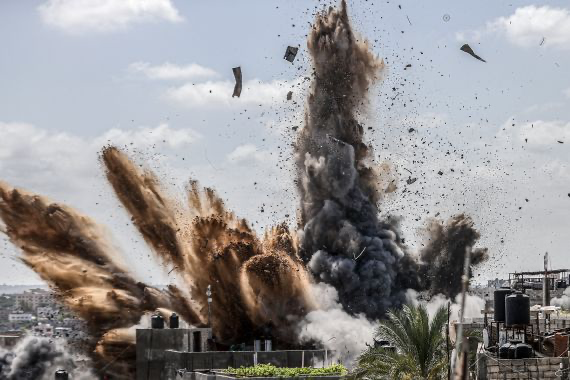 2023-05-13T16:36:07+00:00
Shafaq News/ The Islamic Jihad movement has made a significant development by firing anti-aircraft missiles for the first time, in addition to launching long-range missiles. Israeli military sources were cited by Israeli radio in reporting these actions.
These recent events coincide with the ongoing Israeli airstrikes on the Gaza Strip and the firing of multiple missiles toward settlements in the area.
The Israeli military has confirmed its continued targeting of locations associated with the Islamic Jihad movement within the Gaza Strip. They claim to have struck three mortar launchers and a military site belonging to the group. Furthermore, they assert that 13 underground missile platforms have been destroyed.
Sirens were heard in Netiv HaAsara, a settlement in the northern part of the Gaza Strip. At the same time, the Israeli Front Command verified the activation of sirens at the Kissufim site within the Gaza Strip.
As a precautionary measure, the Israeli Home Front Command has extended the evacuation process for Israelis residing in areas near the Gaza border until the following Tuesday.
Meanwhile, the Energy Authority in Gaza has issued a warning, describing the situation as a humanitarian catastrophe due to the suspended fuel supplies since last Tuesday.
Israel continues its bombing campaign in the enclave for the fifth consecutive day.
Since the bombardment began on Tuesday, at least 33 Palestinians, including children, have been killed, and 147 others have been wounded in the besieged enclave. Two Israelis have lost their lives in rocket attacks.
In the occupied West Bank, Israeli forces have reportedly killed at least two Palestinians and injured three others in the Balata refugee camp in the northern city of Nablus.
Palestinian Islamic Jihad has vowed to carry out further attacks in response to the continued assassinations and bombings of residences and safe houses by Israel in the Gaza Strip.
Israel has rejected an immediate truce in Gaza, asserting that it is incumbent upon Palestinian Islamic Jihad to cease their rocket launches.