Masoud Barzani: the experience of the Kurdistan region may not be successful in other countries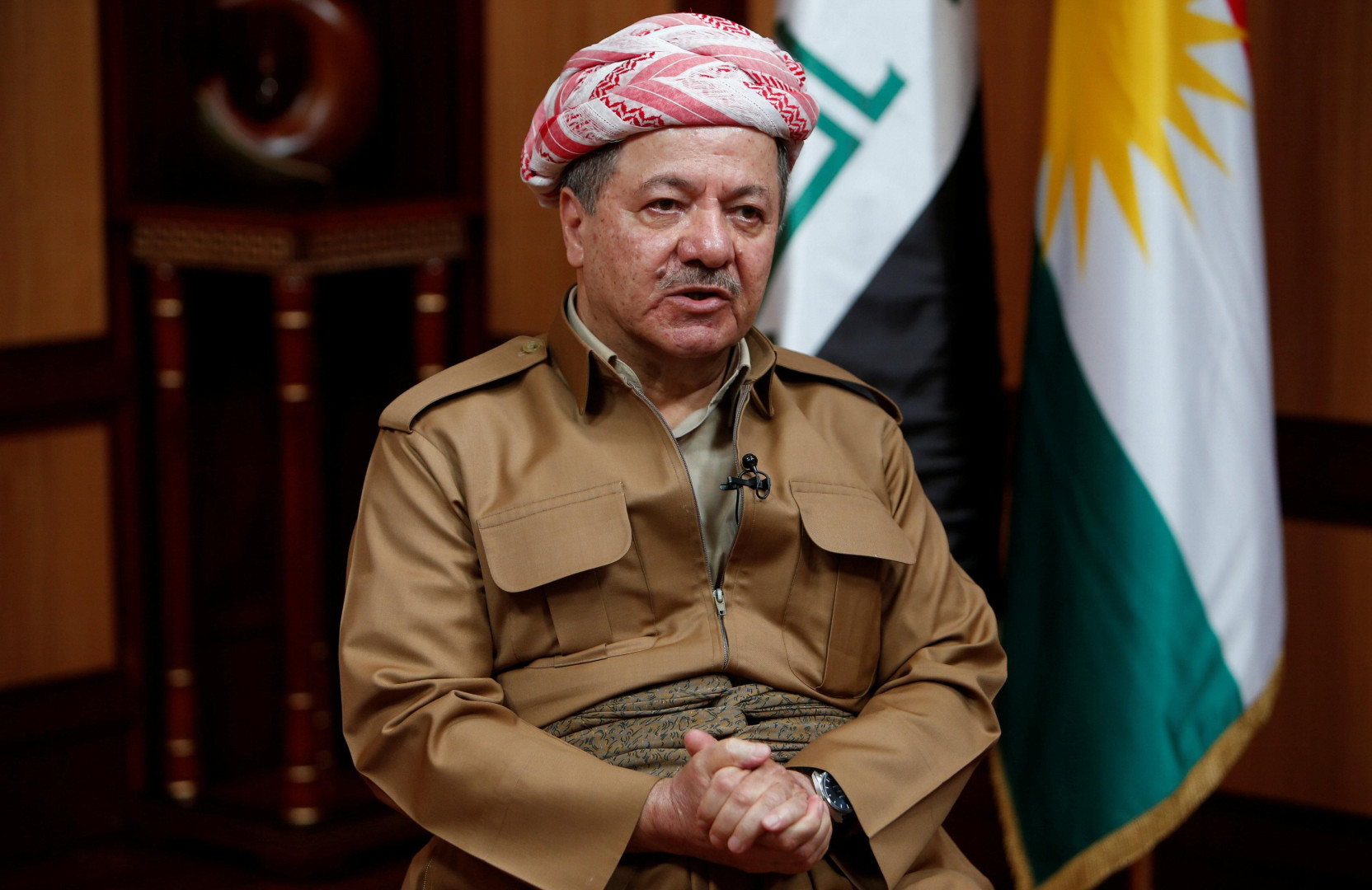 2023-03-16T15:35:54.000000Z
Shafaq News/ In an exclusive interview with Al-Monitor at his headquarters near Erbil, the capital city of the Kurdistan Region, Masoud Barzani, president of the Kurdistan Democratic Party (KDP), saw no reason to further delay Kurdistan's parliamentary elections, and expressed hope that a "positive atmosphere" surrounding recent talks between the Iraqi and Kurdistan Regional Government (KRG) on the budget could be conducive for talks on a long elusive oil law.
"I wouldn't say the budget decision is 100% to our liking, but I believe it is a positive step forward," said Barzani, who served as president of the Kurdistan Region from 2005 to 2017.
Barzani remains hugely impactful in both Kurdish and federal Iraqi politics. The KDP is the dominant party in Iraqi Kurdistan, holding 45 seats in the Kurdistan Regional parliament. The rival Patriotic Union of Kurdistan (PUK) holds 21, with other, smaller parties filling out the remaining seats in the 111-member chamber.
The KDP is also a member of the Coalition Framework, the political alliance that forms the current Iraqi government. The KDP holds 31 seats in Iraq's Council of Representatives, or parliament, the third-largest bloc in the 329-member body behind the Iraqi Sunni Progress party (Takadum) (39 seats) and the State of Law Coalition of Shiite parties (38 seats).
'Positive atmosphere' on budget could be conducive for oil talks
On Monday, Iraq's Council of Ministers approved a budget bill for 2023-25, which is now referred to the Iraqi Council of Representatives for ratification.
Iraq had been operating without a budget since 2021, and under an emergency food security law since last year.
The Kurdistan Region's share of the Iraqi budget under the proposed legislation is 12.6%, according to Iraqi Prime Minister Mohammed Shia al-Sudani, who met with Barzani in Salahuddin on Tuesday.
"This issue has been used unjustly against the Kurdistan Region in the past," said Barzani, referring to a long-standing dispute over what percentage of Iraqi government revenues would be allotted to the Kurdistan Region.
"I wouldn't say the budget decision is 100% to our liking, but I believe it is a positive step forward," he said.
Barzani was hopeful that a "positive atmosphere" surrounding the budget talks could possibly mean good news for a long elusive oil law.
"Since 2007, the Kurdistan Regional Government has been ready to have that law legislated in parliament," he said. "Successive governments in Baghdad have until now been backtracking on that, and it hasn't yet reached a conclusion. But with the current positive atmosphere, I believe this will be conducive to passage of [the oil law] and other pending legislative issues."
'No pretext to delay' Kurdistan parliamentary elections
The tensions between the KDP and the PUK includes a stalemate on elections for a new parliament, which were supposed to have taken place last year.
"An election is a must," said Barzani, "it has to take place, there is no other choice, otherwise the government institutions will lose their legality."
Barzani said he was hopeful following a meeting between the parties in the parliament on Monday to discuss the issue.
"There is no other choice, and there is no pretext or reason to delay," said Barzani. "If any political party wants to create obstacles to elections, they will be isolating themselves. Elections will take place."
US priorities change, but region still viewed with importance
Barzani noted that current US priorities may have changed, with China and Ukraine at the top of the national security agenda, but "that doesn't mean the US is taking things lightly" in Iraq and the Middle East.
"You can't compare current conditions to those of previous eras," said Barzani, "but the US still views the region with importance."
The Kurdish leader noted that US Secretary of Defense Lloyd Austin — "a good friend of ours" — visited Iraq last week.
Austin, said Barzani, "emphasized that the US is attaching importance to the region and continuing relations and contacts with the players," adding that "the threat of ISIS [Islamic State] is a continuous one."
China-brokered Iran-Saudi agreement
Barzani welcomed the agreement brokered by China between Iran and Saudi Arabia, saying, "Naturally we would like to see an end to tension between regional states. Iran and Saudi Arabia are two important countries in the region."
"Maybe it's too early to pass judgment, and to say much on it, but at least any efforts to reduce tension is welcome," said Barzani.
Regarding China's role, Barzani said, "They have been working quietly to fill some of the gaps that are being left behind."
"Hopefully the agreement between Iran and Saudi Arabia is a sign that Iran is moving away from the language of intimidation and threat, and toward dialogue and diplomacy, to accommodate the views of others and to settle issues through common understanding," Barzani said.
Kurdistan region not part of 'score settling' with Iran
Asked about the Iranian missile attacks on the Kurdistan Region last year, Barzani said, "[They] were totally unjustified, and the accusations were baseless."
Iran accused the Kurdistan Region of Iraq, and the Government of Iraq, of not preventing armed Iranian Kurdish opposition groups from launching attacks in Iran during the protests following the death in custody of Mahsa Amini for a hijab violation in September 2022.
"Some of the institutions in Iran — in order to cover their own failures in the country — were trying to find an external scapegoat," said Barzani.
"Iran is a neighbor, we do not want to have any tension with them, and we want to have as normal relations as possible," he added.
"We are not part of the skirmishes or settling scores [with Iran]," said Barzani. "We cannot allow our territory to be a base to threaten the security of our neighbors."
Syria needs end to cycle of violence
Barzani welcomed the steps by Arab states to reengage Syria.
"Since 2011, Syria has witnessed a chaotic situation, with killings, displacement, refugees and mass destruction," said Barzani. "But there hasn't been any indication of what may come next," referring to efforts and hopes for regime change for the government of Syrian President Bashar al-Assad.
"Who's going to be the alternative?" asked Barzani. "There are no clear answers, and no clarity in policies, for the future of Syria."
With the Arab rapprochement, "there could be some stability to the country and at least end the cycle of violence and return to a degree of normality," he said.
States need to recognize Kurdish rights and identities
Barzani reflected on the situation of the Kurdish people not just in Iraq, but throughout the region.
"The Kurds are one nation, that has to be said," noted Barzani, who is the son of Mullah Mustafa Barzani, widely revered as the primary political and military leader of the Kurdish movement until his death in 1979.
Barzani recounted how the Western powers, after World War I, gave and then retracted self-determination to the Kurds, with the Kurdish people ending up divided among a number of states.
"There has been continuous oppression and injustice against the Kurds," Barzani added, "leading to killings, wars and conflict. But the Kurds managed to survive."
"The lesson should be, for oppressive governments, that there will be no solution through oppression and violence," said Barzani. "The answer instead lies in pragmatism, finding common ground and using nonviolent means."
The experience of the Kurds in Iraq, where the Kurdistan Region is an autonomous government within the state, may not apply directly to other states, Barzani observed.
"Each Kurdish region has its characteristics, status and circumstances within the countries they live," added Barzani. "We therefore cannot say that the model in Iraq can be a template, or blueprint for Kurds in Syria, Turkey and Iran. Solutions have to be found in those countries."
"All of the states should move away from the policies of oppression, suppression and denial, and the Kurdish groups or movements should not take to violence," the Iraqi Kurdish leader said. "There has to be common ground for dialogue to find a solution so that the Kurds in those countries can enjoy their democratic rights and identities."
(al-Monitor)