President Nechirvan Barzani meets with a high level UN delegation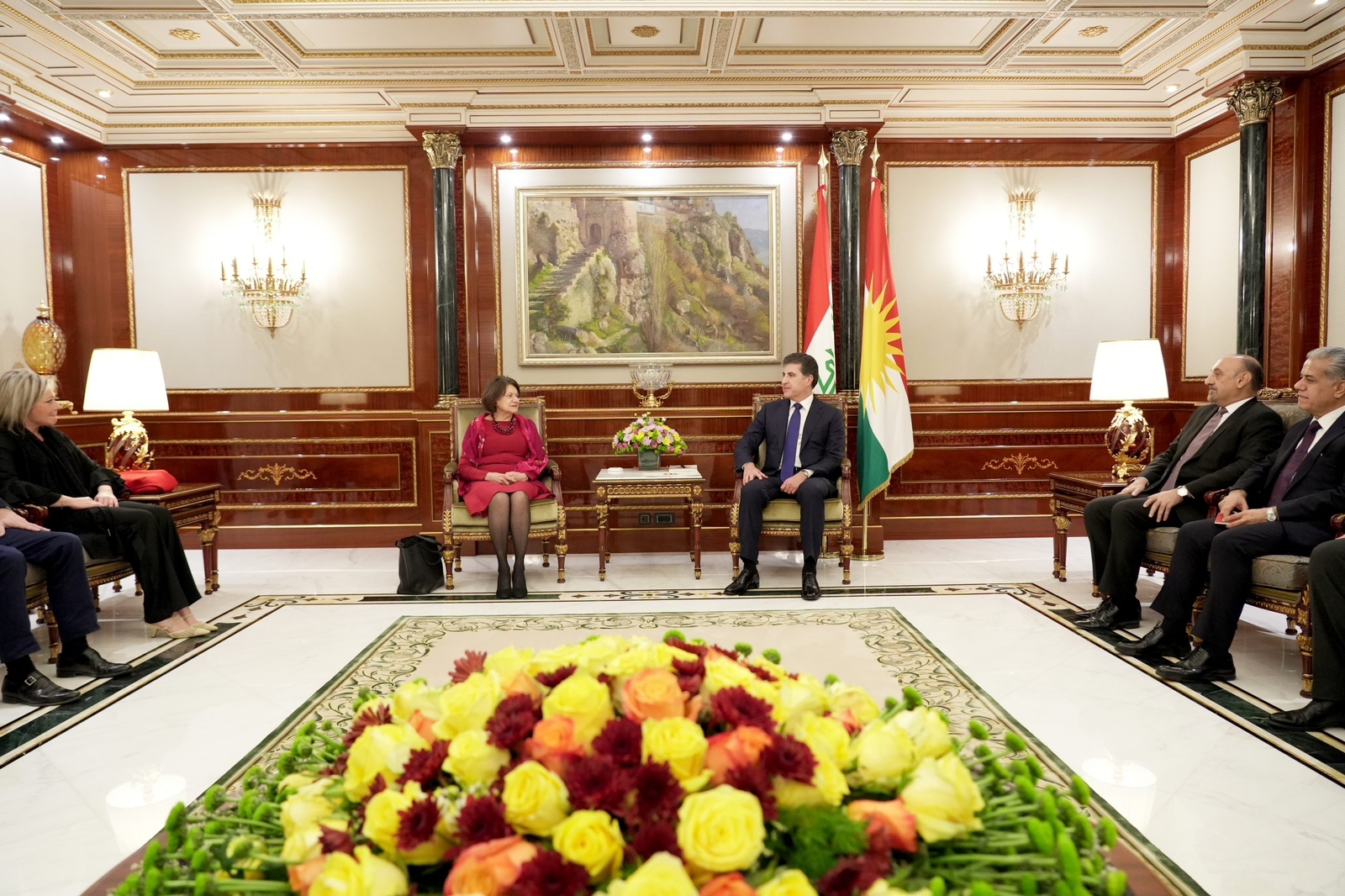 2023-01-24T21:22:56+00:00
Shafaq News / President Nechirvan Barzani received Ms. Rosemary A. DiCarlo, the UN Under-Secretary-General for Political Affairs and an accompanying delegation including Ms. Jeanine Plasschaert, the Special Representative of the UN Secretary-General for Iraq, along with several other UN officials.
The meeting discussed the situation in the Kurdistan Region and the ongoing efforts to reach an agreement on the elections. The Election Commission and the views of all communities on the general elections, Erbil-Baghdad relations, the fight against terrorism, and the status of the Yezidis were also discussed.
In the meeting, President Nechirvan Barzani praised the role of the United Nations in Iraq, both in working closely with the relevant parties in the Kurdistan Region and Iraq, and as an assistant to facilitate the solution of issues and to maintain stability and peace.
Regarding the situation in the Kurdistan Region, the President stressed that the ground is ready for political parties' meetings, especially between the KDP and the PUK and their talks on the solution of the pending problems which would then pave the way for resolving the issues related to elections and the setting of a voting date.
The President said that Erbil-Baghdad relations and the recent positive atmosphere that has emerged for dialogue between the two sides and the efforts to resolve the issues between them, especially regarding the Iraqi budget law and oil and gas laws and the distribution of revenues, will contribute to further stability and peace in the country.
Both sides reiterated the significance of implementing the agreement on the formation of the Iraqi government and its agenda, as well as the need for continued coordination between the Kurdistan Regional Government and the Federal Government of Iraq in the fight against ISIS, especially in the disputed territories of the Article 140. They also stressed the significance of implementing the agreement between the Kurdistan Regional Government and the Iraqi Federal Government on the status of Shingal.
Iraq's relations with neighboring and regional countries, and several other issues of common interest were also highlighted at the meeting.