Kurdish Cabinet: The outstanding issues with Baghdad are not limited to financial dues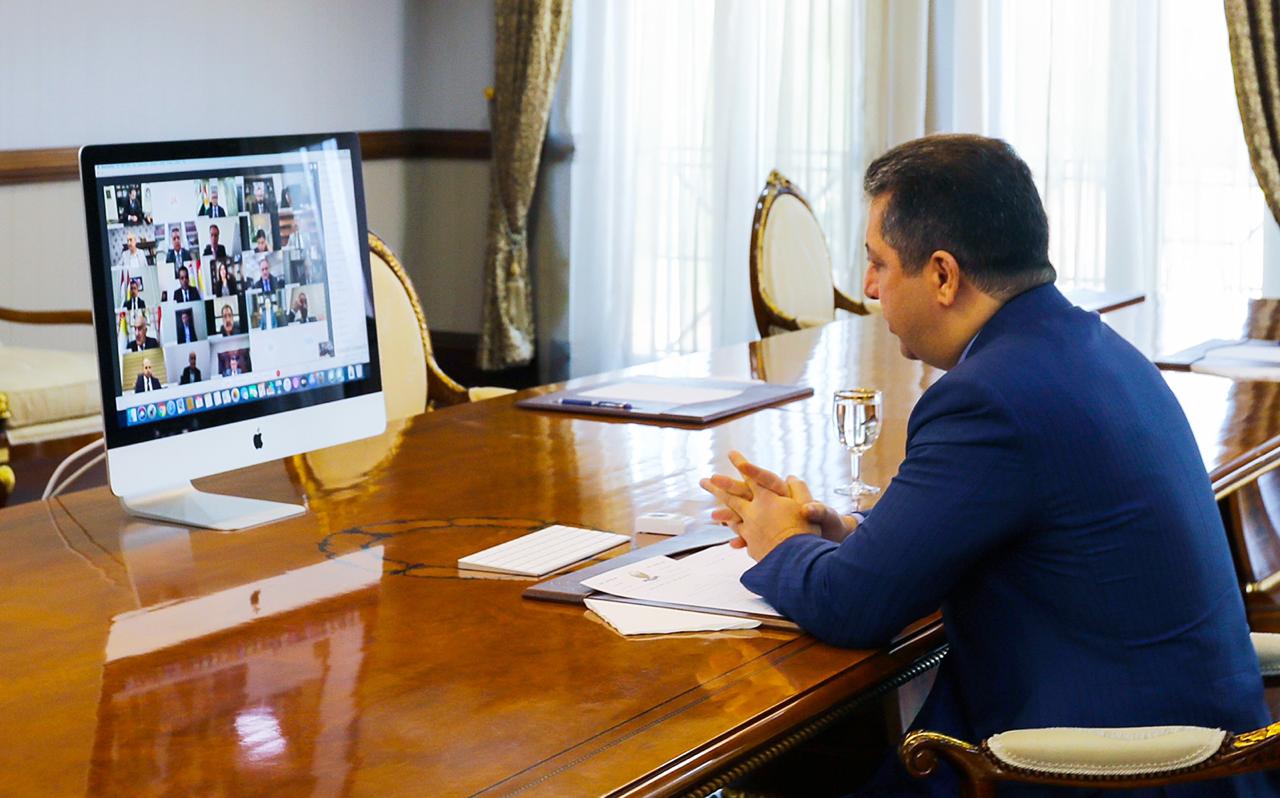 2020-09-16T14:46:02+00:00
Shafaq News / The Prime Minister of Kurdistan Regional Government, Masrour Barzani said on Wednesday that the outstanding disputes between Baghdad and Erbil for many years are not limited to salaries, other financial dues, and oil.
Barzani's speech came during his presidency of the Council of Ministers of the region, with the participation of Deputy Prime Minister Qubad Talabanivia a closed-circuit television.
A statement issued by the regional government received by Shafaq News agency stated that, "At the beginning of the meeting, the Prime Minister recalled the anniversary of the massacre Soria village in Zakho district, in which the Ba'athist regime committed a major crime on September 16, 1969, which resulted in the death of many Christians and Muslims citizens."
After that, Barzani highlighted on the visit of the Prime Minister of the Federal government to the Region, and considered it a positive step to solve the outstanding problems between the two parties on the basis of the constitution."
He said, "The outstanding issues with the federal government are not limited to financial dues, budget or oil, the focus of our discussions also includes the normalization Kurdistan situation on the other Kurdish regions outside the region, as well as the constitutional rights and entitlements of the Peshmerga forces."
The Prime Minister also pointed out that, "Despite the current crises, services in the Kurdistan Region are better than they are in the rest of Iraq, stressing that no party cares about the lives of the region's citizens as much as the Kurdistan Regional Government does."
For his part, Deputy Prime Minister Qubad Talabani presented the results of the delegation's visit to Baghdad, as part of the periodic talks between Erbil and Baghdad regarding the federal budget and the oil file, and indicated that the discussions are continuing to reaching a long-term agreement.
The draft federal budget law for 2020 was also discussed, which was voted on by the Federal Cabinet and referred to the House of Representatives on September 14, 2020.
At the conclusion of the meeting, the Council of Ministers discussed the strategic foundations of the federal budget for the years 2021, 2022 and 2023, and the Council of Ministers decided to direct the ministries, in coordination and cooperation with the Ministries of Finance and Economy, to plan for this purpose, to ensure effective participation of the Kurdistan Region in drafting the federal budget strategy with the aim of securing financial rights and dues for the Region.