Who Is Salwan Momika who burnt Quran Outside in Stockholm?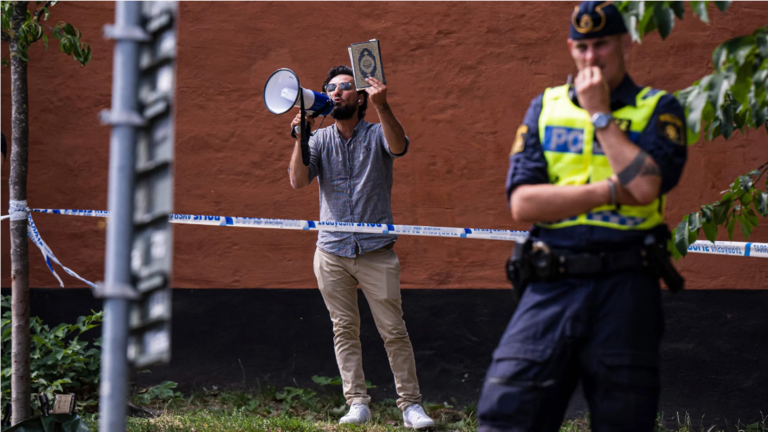 2023-06-30T09:22:34+00:00
Shafaq News / On the day of Bakri Eid 2023, a protest erupted outside the Stockholm mosque in Sweden where an Iraqi refugee identified as Salwan Momika set ablaze some pages of The Holy Quran in an insulting act. He also laid a strip of bacon on the holy book and began stamping on it with his foot. He was joined by another protester who translated what Momika said. The shocking incident was reported during the Eid-al-Adha festivities on June 28 (local time).
Salwan Sabah Matti Momika, now known to the world as the man who initially asked permission to burn the holy book and later, with no fear set it on fire in public, is a 37-year-old Iraqi refugee who openly "expressed his opinion" towards the Islamic religious text and wanted it to be banned.
The man fled from Iraq to Sweden a couple of years ago and was living in the municipality of Järna in Södertälje, Stockholm County. Salwan is an Iraqi national.
"My demonstration will take place on the 1st day of Eid. My demonstration will be in front of the big mosque in Stockholm where I will burn the Quran... My loved ones, who are living in Stockholm, and would like to participate in the demonstrations, and contribute both financially and emotionally, my information is below," he said in a video signing off with a kiss.
His idea was to highlight the importance of freedom of speech as he was quoted in reports as saying, "This is democracy. It is in danger if they tell us we can't do this."
In his application to the act accessed and quoted by international media reports, Momika wrote, "I want to protest in front of the large mosque in Stockholm, and I want to express my opinion about the Quran… I will tear up and burn it."
It is learned that Sweden rarely condemns protests and public opinion. And, reportedly, permission for the Momika's demonstration was given by a court there on Wednesday. However, the police refused to authorise the Quran burnings in Stockholm.
(Free Press Journal)