A possible conflict between USA and Russia in Syria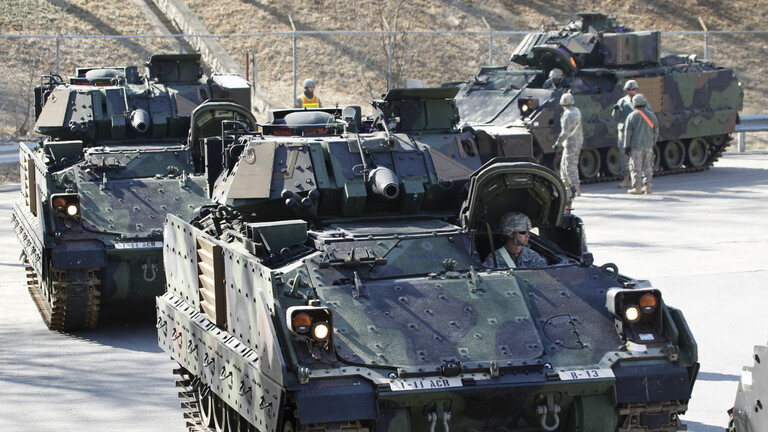 2020-09-19T14:13:26+00:00
Shafaq news/according to Associated Pressed, The U.S. has deployed additional troops and armored vehicles into eastern Syria after a number of clashes with Russian forces, including a recent vehicle collision that injured four American service members.
Navy Capt. Bill Urban, spokesman for U.S. Central Command, said the U.S. has also sent in radar systems and increased fighter jet patrols over the region to better protect American and coalition forces.
"The United States does not seek conflict with any other nation in Syria, but will defend coalition forces if necessary," said Urban.
A senior U.S. official who preferred to be anonymous said to Associated Press, "half-dozen Bradley fighting vehicles and fewer than 100 additional troops were sent in to eastern Syria. The official, who spoke on condition of anonymity to discuss details of the military move, said the reinforcements are meant to be a clear signal to Russia to avoid any more unsafe and provocative actions against the U.S. and its allies there."
Last August, Washington revealed a confrontation between a US-Coalition security patrol and a Russian military one, near the city of Al-Malikiyah, in northeastern Syria.
It indicated that the Russian vehicle hit a MATV vehicle belonging to the coalition, which caused injuries among its crew, pointing out that "in order to calm the situation, the coalition patrol left the area."
It is noteworthy that last June, Russian military forces arrived, via helicopters and armored vehicles, to the village of Qasr Deeb in al-Malikiyah, where they were stationed.
However, US patrols blocked the way on trucks carrying logistical equipment to the point where the Russian forces landed, and forced them to return to Qamishli, near the Syrian-Turkish border.
On several previous occasions, US patrols intercepted the Russian convoys trying to reach the oil fields in the region.