Turkey's Erdogan cruising, challenger scrambling toward runoff election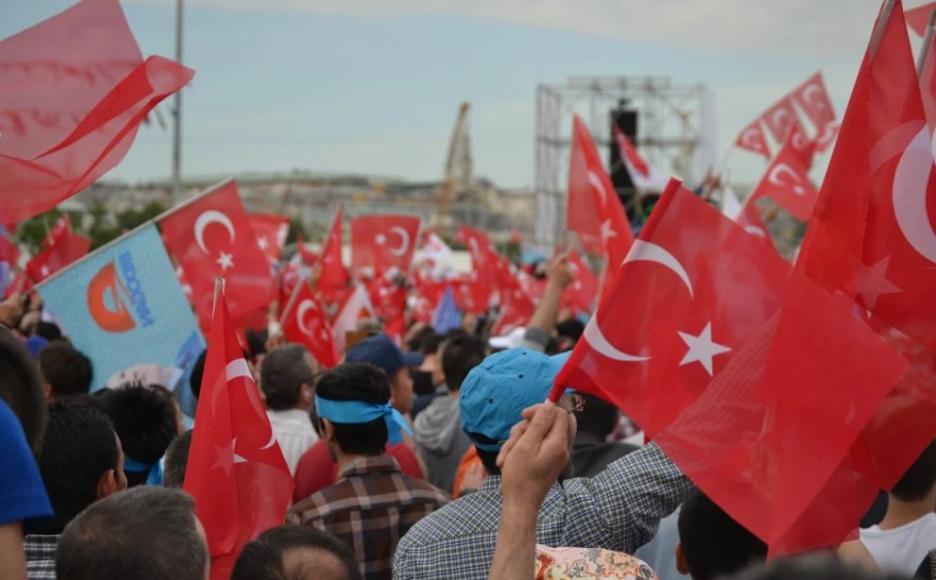 2023-05-15T15:08:30+00:00
Shafaq News/ President Tayyip Erdogan will appeal to a "kingmaker" third candidate as he manoeuvres to seal victory in Turkey's runoff election, after the initial vote dashed his challenger Kemal Kilicdaroglu's hopes of a swift win.
Erdogan's strong performance on Sunday gave him 49.4% of the vote, well ahead of Kilicdaroglu on 45% and just shy of the 50% threshold for outright victory, shattering opinion polls that had suggested his 20-year reign was about to end.
With two additional weeks of campaigning ahead, interviews with nearly a dozen officials from both camps painted starkly different pictures.
Erdogan's side was confident that a deal could be made with Sinan Ogan, the nationalist third candidate who garnered 5.2% of the vote, in order to prevail comfortably in the runoff on May 28.
Meanwhile Kilicdaroglu's side – which pledges to roll back Erdogan's increasingly authoritarian rule and restore democratic checks in the country of 85 million – was in shock at the poor result and scrambling to rethink strategy.
His six-party alliance did not attract as many nationalist voters as expected, partly due to support for Kilicdaroglu's candidacy from a large pro-Kurdish party, the officials said.
Kilicdaroglu "needs to restructure his own strategy completely", said a senior official from the opposition alliance.
A high-level official from Erdogan's ruling AK Party said: "Our chances in the second round are very, very high. Ogan now holds the key."
In an interview on Monday, Ogan told Reuters he could only support Kilicdaroglu in the runoff if he agreed to offer no concessions to the pro-Kurdish Peoples' Democratic Party (HDP), which ran under the Green Left party banner in Sunday's parliamentary election.
Both Erdogan and Kilicdaroglu are expected to meet Ogan in person in the coming days. Given their conservative views, Erdogan and Ogan are seen as easier allies, even though the president's alliance includes a small Islamist Kurdish party that Ogan also opposes.
"Ogan is the kingmaker for the second round and he said he would negotiate with both parties… but Erdogan has more to offer," said Hakan Akbas, managing director of Strategic Advisory Services, an Istanbul-based political consultancy.
BATTLE FOR NATIONALISTS
The prospect of Erdogan's rule entering a third decade will disappoint civil rights activists.
It would encourage Moscow, an important ally of Ankara, and unnerve Washington, European capitals and many Middle Eastern leaders who had troubled relations with the Turkish president.
His strong election showing came even as his unorthodox low interest-rate policies sparked a series of currency crashes in recent years and a cost-of-living crisis as inflation soared above 85% last year.
Further boosting Erdogan's prospects, his ruling alliance surprised analysts by winning a clear majority in Turkey's new parliament, including from voters in the southeast region devastated by February's earthquakes that killed more than 50,000 and left millions homeless.
He will now tell voters that backing him would help usher in five more years of stable government, the officials said.
"His motto will be: if you vote for Kilicdaroglu he will be a lame duck," said another senior opposition official who acknowledged a tough road ahead.
The nationalist IYI Party, the second-largest in Kilicdaroglu's alliance, received a disappointing 9.75% support in the parliamentary vote. The Kurdish Green Left party, which won 8.8% of the vote, is not in the main opposition alliance.
A third opposition official said Erdogan succeeded in "frightening and shifting some centrist-nationalist voters to his side" with claims, made without providing evidence, that the outlawed Kurdistan Workers Party (PKK) was backing Kilicdaroglu.
"We have two weeks. We need a quick recovery (in support for the opposition candidate)," the person added.