Russia says it destroyed depot containing Western weapons in Ukraine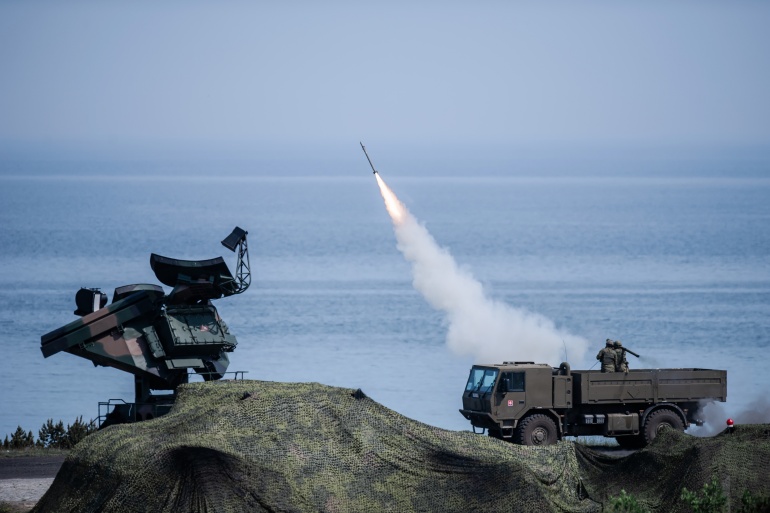 2022-06-12T14:59:40+00:00
Shafaq News / Russian forces fired cruise missiles to destroy a large depot containing U.S. and European weapons in western Ukraine's Ternopil region, Interfax reported on Sunday, as street fighting raged in the eastern city of Sievierodonetsk.
The governor of the Ternopil region said a rocket attack on the city of Chortkiv fired from the Black Sea had partly destroyed a military facility, injuring 22 people. A local official said there were no weapons stored there.
Reuters could not independently confirm the differing accounts.
Moscow has repeatedly slammed the United States and other nations for supplying Ukraine with weapons. President Vladimir Putin said earlier this month that Russia would strike new targets if the West supplied longer-range missiles to Ukraine for use in high-precision mobile rocket systems.
Ukrainian leaders have renewed pleas to Western countries in recent days to speed up deliveries of heavy weapons as Russian forces pound the east of the country with artillery.
Sievierodonetsk has become epicentre of the battle for control over the industrialised Donbas region in the east, made up of Luhansk and Donetsk provinces. Parts of the city have been pulverised in some of the bloodiest fighting since Moscow began its invasion on Feb. 24.
Luhansk Governor Serhiy Gaidai said on Sunday that Ukrainian and Russian forces were still fighting street by street in Sievierodonetsk. He said that while Russian forces have taken most of the city, Ukrainian troops remain in control of an industrial area and chemical plant where hundreds of civilians are sheltering.
(Reuters)