U.S. sanctions international network cooperating with Russia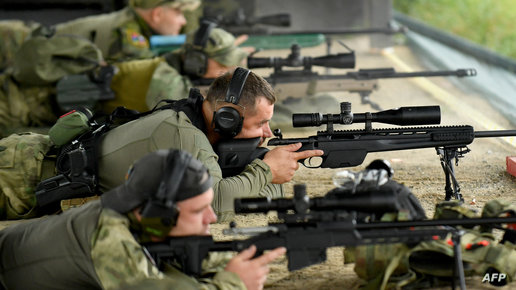 2023-02-01T19:50:58.000000Z
Shafaq News/ The United States has imposed Russian-related sanctions on 22 individuals and entities in multiple countries that the U.S. Treasury Department says are part of a global network set up to evade previously announced sanctions targeting Russia's defense industry.
The Treasury's Office of Foreign Assets Control (OFAC) imposed the new sanctions on February 1, designating individuals and entities in the network, which OFAC said supports Russia's military-industrial complex.
The actions are part of a strategy to target sanctions evasion efforts around the globe, expose facilitators, and ultimately limit Russia's access to revenue needed to wage its war in Ukraine, the department said in a news release.
"Russia's desperate attempts to utilize proxies to circumvent U.S. sanctions demonstrate that sanctions have made it much harder and costlier for Russia's military-industrial complex to re-supply [Russian President Vladimir] Putin's war machine," said Deputy Treasury Secretary Wally Adeyemo.
The network is led by Russian- and Cypriot-based arms dealer Igor Zimenkov, who has worked closely with his son, Jonatan Zimenkov, within the network to enable Russian defense sales to third-country governments, the department said.
The network has engaged in projects connected to Russian defense capabilities, including supplying high-technology devices, since Russia launched its full-scale invasion of Ukraine invasion of Ukraine on February 24, 2022, the Treasury said.
Certain members of the network have also supported sanctioned Russian defense entities Rosoboroneksport and State Corporation Rostec, which the Treasury said are key parts of Russia's military-industrial complex.
Igor Zimenkov maintains close relationships with people associated with Rosoboroneksport and has provided information to Rostec personnel abroad, while Jonatan Zimenkov has maintained powers of attorney for companies in the Zimenkov network on behalf of his father, according to the Treasury.
They have additionally been involved in multiple deals for Russian cybersecurity and helicopter sales to South American countries and have engaged directly with Rosoboroneksport's potential clients to enable sales of Russian defense materiel, according to the department.
Igor Zimenkov has also supported the Belarusian military-industrial complex by facilitating sales efforts in Latin America of Belarusian defense entity State Owned Foreign Trade Unitary Enterprise Belspetsvneshtechnika (BSVT). BSVT was previously designated for its links to the government of Belarus, as well as for operating in the defense and related materiel sector of the Belarus economy.
Among the members of the network were "front companies" used to funnel money within the network. These companies, which were also designated for sanctions, are based in Singapore, Cyprus, Bulgaria, Uzbekistan, and Israel. Several people associated with the companies also were designated.
The sanctions designations freeze any assets under U.S. jurisdiction held by the individuals and entities. They also inhibit their access to global financial markets and bar people based in the U.S. from dealing with them.