Escalating Turkish nationalism stirs Kurdish anxiety ahead of Presidential runoff election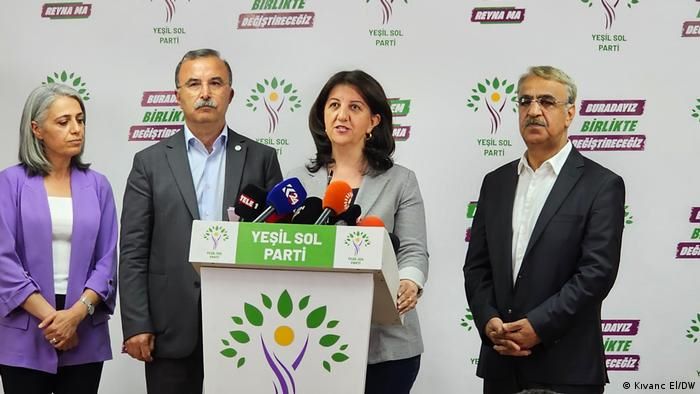 2023-05-25T16:33:10+00:00
Shafaq News / In the run-up to the decisive round of Turkey's presidential elections, escalating Turkish nationalism has provoked anxiety amongst the Kurds, who potentially hold the swing vote. This anxiety is fueled by fears of a victory for incumbent Recep Tayyip Erdogan, whom Kurdish forces have accused of adopting an adversarial policy for the past two decades, according to a Reuters report.
Kurdish-supporting parties in Turkey announced on Thursday their endorsement of opposition presidential candidate Kemal Kilicdaroglu for the election's runoff.
Kurdish oppositionists fear that an Erdogan victory could amplify a state-led crackdown campaign against them, with nationalist rhetoric intensifying before the Sunday elections.
The Kurds, comprising approximately one-fifth of Turkey's population, could be the determining factor for the opposition seeking to end Erdogan's 20-year rule. Erdogan's tenure initially began with appeasing Kurds but subsequently devolved into stringent repression.
However, Erdogan's support remains substantial ahead of Sunday's elections, surpassing opponent Kilicdaroglu in the first round, despite the latter garnering support from six other parties in addition to the pro-Kurdish Peoples' Democratic Party (HDP).
For some Kurdish voters, the stakes are no higher than Erdogan intensifying his nationalist stance in a bid to capture more votes before the runoff.
Officials from the HDP and their Green Left Party allies stated their intention to bring change in the runoff, maintaining their stance but refraining from mentioning Kilicdaroglu by name.
Pervin Buldan, co-leader of the HDP, stated that they would vote on Sunday to end Erdogan's "one-man rule." She added, "The strange system Erdogan and his partners established is causing the societal problems we suffer from. What will be voted on May 28th is the feasibility of this strange system continuing or not."
In the parliamentary elections held on May 14th, the HDP won 61% of the vote in Diyarbakir, a predominantly Kurdish city in southeastern Turkey, while Erdogan's Justice and Development Party secured 23.5%. However, on a national level, the HDP attained 8.9%.
The HDP's endorsement of Kilicdaroglu this week was complicated by an agreement with an anti-immigration party, which the HDP decried as "contrary to global democratic principles."
During his early years in power, Erdogan granted greater political and cultural rights to the Kurds, removed restrictions on the use of the Kurdish language, and oversaw a peace process with the Kurdistan Workers Party (PKK), which took up arms against the state in 1984 and is considered a terrorist group by Turkey and its Western allies.
However, after a 2015 ceasefire breakdown, Erdogan reversed course and authorities launched a crackdown resulting in the detention of thousands of HDP members, often on charges of involvement in armed activities, with numerous lawmakers and party-affiliated mayors removed from their posts and jailed.
Erdogan capitalized on the HDP's support for Kilicdaroglu, repeatedly accusing the opposition of endorsing terrorism. The HDP denies allegations of ties with militants.
Erdogan has repeatedly highlighted a doctored video to claim Kilicdaroglu has links to the PKK, which has waged a rebellion claiming over 40,000 lives. Kilicdaroglu has dismissed these allegations as fabrications.
Erdogan's stance was backed by Sinan Ogan, a hardline nationalist who finished third in the first round of the elections. Ogan stated his support for the Turkish president is based on the principle of "continuous struggle against terrorism," referencing pro-Kurdish groups.