President Barzani visits Hamdaniya burn victims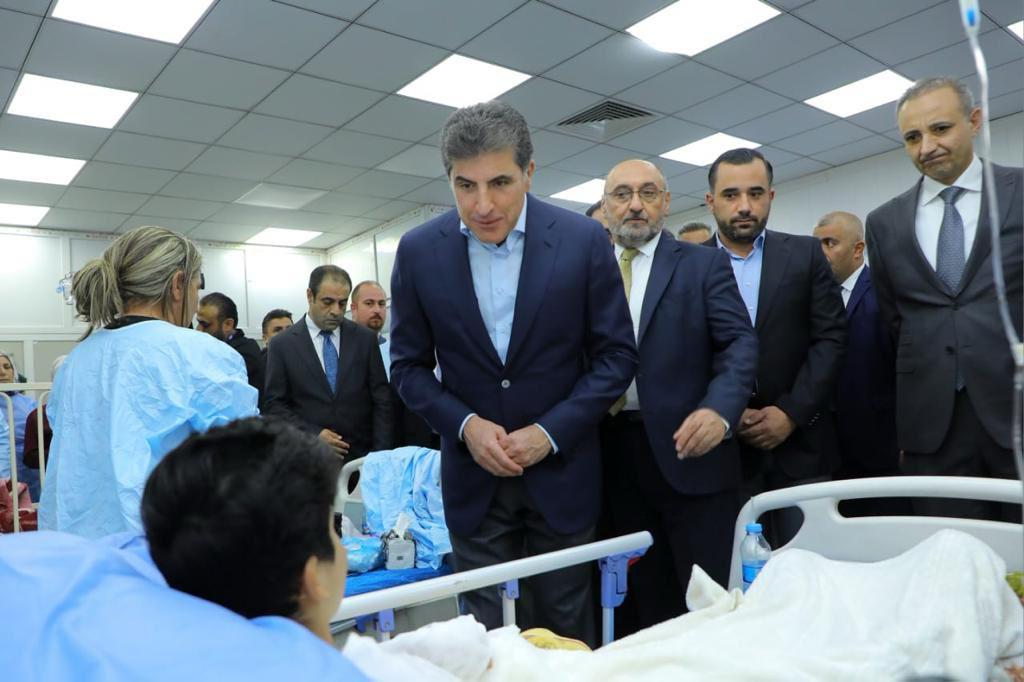 2023-09-27T18:56:19+00:00
Shafaq News / President Nechirvan Barzani of the Kurdistan Region visited burn victims at an emergency hospital in Erbil on Wednesday evening, following a tragic fire incident that occurred the previous night in Hamdaniya.
A presidential statement conveyed President Barzani's unwavering commitment to providing complete support and assistance to the injured individuals affected by the harrowing incident. He expressed profound gratitude and commendation for the hospital staff and relevant authorities within the Kurdistan Regional Government for their relentless services and aid extended to the victims.
In his statement to reporters, President Barzani conveyed his heartfelt condolences to the families of the victims, recognizing the magnitude of the tragedy as a colossal humanitarian catastrophe. He lauded the swift response of the Kurdistan Regional Government's Health Ministry and the Erbil Governorate, who immediately mobilized ambulance services to aid the injured. He further praised the dedication of the healthcare professionals, stating, "What I have witnessed here and the care provided to the injured are a source of pride for all the sons and daughters of the Kurdistan Region."
Highlighting the gravity of the situation, President Barzani emphasized, "This is a major humanitarian disaster, and we must all stand by our brothers and sisters in this difficult time, hoping that God grants them patience and solace." In this context, he revealed that he had also discussed the matter with the Prime Minister of Iraq, who has shown a keen interest in the situation.
The Iraqi government promptly dispatched the Minister of Interior and Minister of Health to Mosul, with plans for them to visit Erbil as well. President Barzani called for a thorough investigation into the incident and compensation for the victims. He commended the Prime Minister's dedication to addressing the issue within the Iraqi Cabinet, vowing to take all necessary steps to alleviate the suffering of these citizens. He concluded, "I pray to Almighty God to grant everyone solace. Truly, it is a great tragedy, and we collectively pray for the swift recovery of the injured."
Continuing his dialogue, President Barzani commended the dedicated staff at the emergency hospital, reiterating his warm appreciation for their remarkable humanitarian efforts witnessed today. He once again extended his heartfelt gratitude to the Health Ministry of the Kurdistan Regional Government, as well as the esteemed Minister of Health and the Erbil Governor, for their vigilance.
President Barzani closed his remarks, affirming, "We will do everything necessary for them, and we will be at their service, offering them the utmost care. These are our dearest, and the pain and catastrophe that have befallen them are as if they have befallen us, the Kurdistan Region, and its people. We are with them wholeheartedly and will remain by their side. May God grant them the strength to endure and persevere."