President Barzani reiterates commitment to safeguarding Christian communities in Iraq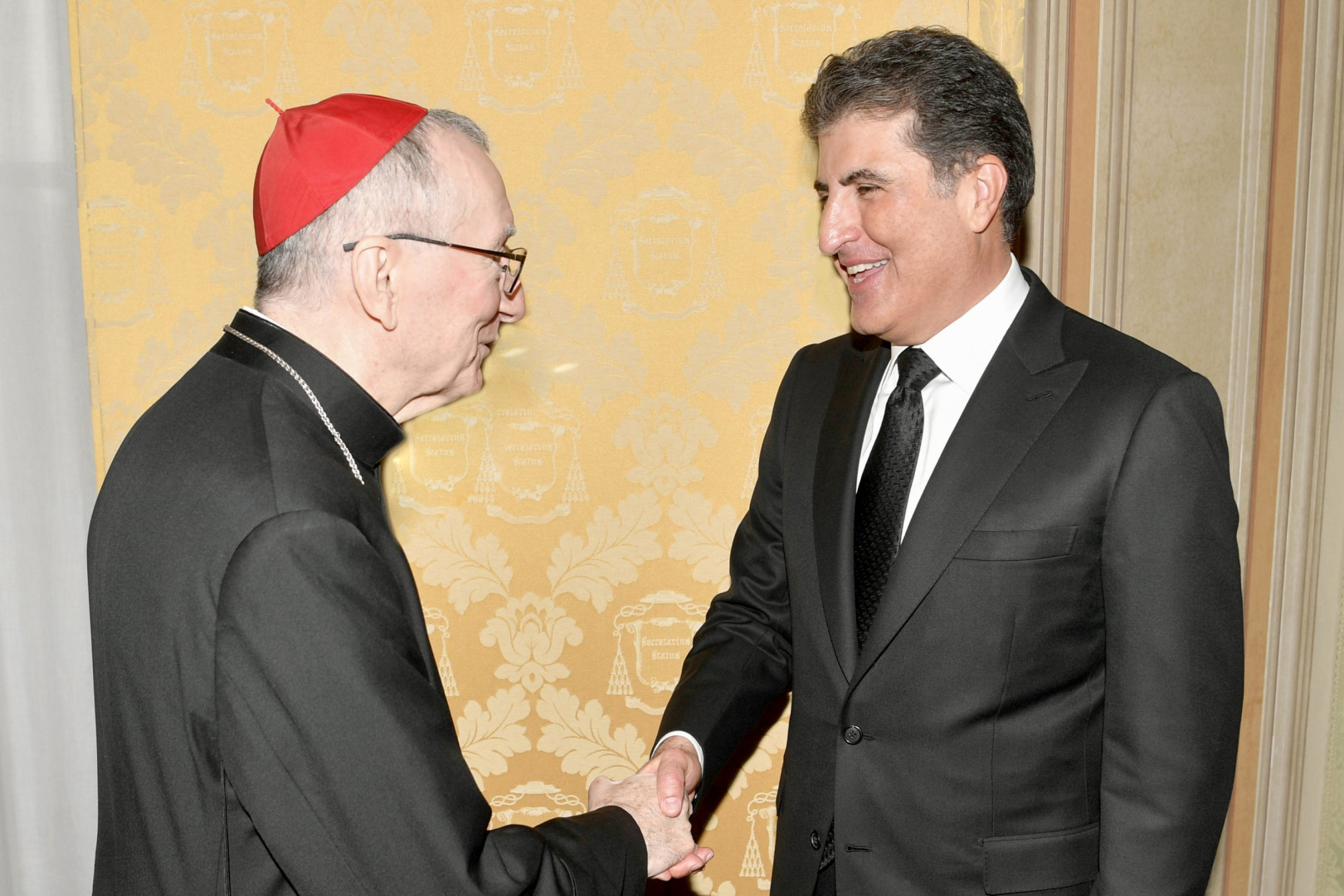 2023-04-13T13:53:02+00:00
Shafaq News/ President Nechirvan Barzani on Thursday reiterated the Kurdistan region's unwavering commitment to upholding the rights of Christians to inhabit their ancestral lanfs, both in the region and across the broader Iraqi landscape.
Barzani's remarks transpired during a high-level meeting with the Vatican's Prime Minister, Cardinal Pietro Parolin.
A formal readout from the Kurdistan Presidency said the dialogue encompassed an examination of the overall political climate in Iraq, as well as an assessment of the circumstances facing diverse ethnic constituents, with particular emphasis on the Christian communities in the Kurdistan region and Iraq.
The conversation, according to the readout, illuminated ongoing endeavors aimed at sustaining the Christian demographic in the region.
Cardinal Parolin expressed his gratitude and admiration for President Barzani's instrumental role in nurturing constructive dialogue between various factions and facilitating conflict resolution in Iraq and the Kurdistan region.
The premier unequivocally reaffirmed the Vatican's steadfast support for the Kurdistan region, the readout added.
During the course of the meeting, Parolin extolled the inauguration of the Catholic University in the Kurdistan region and commended the local government's collaborative efforts and endorsement of the institution's growth.
The cardinal said his visit to Erbil last year depicted the harmonious coexistence within the Kurdistan region as a beacon of hope and assurance.
In response, President Barzani accentuated the Kurdistan region's aspiration for Christians to maintain their presence in their homeland, conveying the region's unwavering preparedness to facilitate the return of those seeking repatriation.
Barzani implored the Vatican to advocate for the European Union's implementation of reconstruction projects aimed at revitalizing Christian areas in the region and Iraq.
The readout said the meeting explored the intricacies of Erbil-Baghdad relations, the pursuit of dialogue to untangle lingering disputes, and the overarching geopolitical landscape of the region.