President Barzani: intellectuals should rectify the "incomplete image" orientalists depicted about the Kurds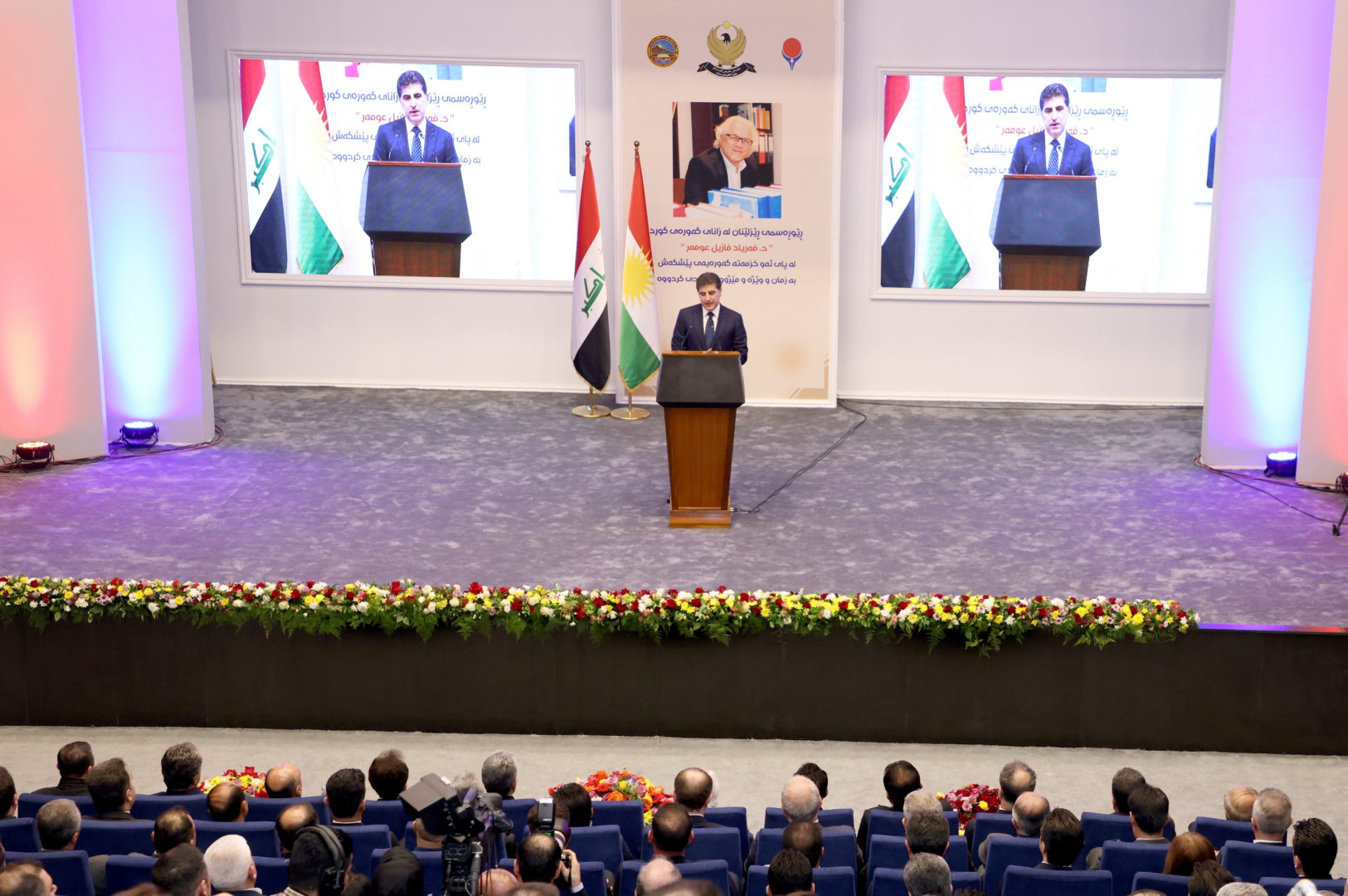 2023-01-23T11:28:29.000000Z
Shafaq News/ The President of the Kurdistan region, Nechirvan Barzani, on Monday attended a ceremony organized by the Kurdish Academy, the Saladin University, and the Governorate of Erbil to honor the Kurdish intellect and scholar, Dr. Fariad Fadhel Omar.
In a keynote speech he delivered before a crowd of government officials, scholars, and public figures attending the ceremony, President Barzani said, "I am pleased to attend a ceremony to honor one of our nation's bright scholars."
"Honoring the capabilities, talents, and works of our great scientists and inventors is a tribute to our nation's identity and history, and a testimony to the efforts of our loyal people who served the nation in all fields."
"I congratulate the Saladin University for awarding Dr. Fariad Fadhel Omar an honorary doctorate for his services. Dr. Fariad is a prominent figure who has given so much to his people and homeland over more than half a century. He continues to preserve and serve the language, culture, and history of our people via poetry, articles, research, teaching, translation, and other cultural activities."
Highlighting his role in establishing the Kurdish Institute at Berlin's Azad University and contributions to Kurdish literature and Academia, President Barzani said that Dr. Omar is "a bridge to communicate our nation's thoughts to the outer world, particularly the West."
The president said the western orientalists had depicted an "incomplete picture" of the Kurdish nation. Kurdish academics, scientists, and intellectuals should adjust this notion by communicating Kurdish literature and thoughts to the world.
"It is pivotal to have active institutions led by competent and experienced figures to address this task both inside and outside the country," he continued.
"The survival and progress of any state are contingent upon the productivity and creativity ability of its people in all fields," he explained, "scholars, inventors, and talents are an asset to our people and nation."
"Language is the pillar of any nation's identity... Education should be viewed as an important value," he concluded, "it should not be about getting high grades only, but also gaining knowledge and pushing the society forward."