Tragic incident in Mosul: Child killed and another injured by ISIS remnant explosion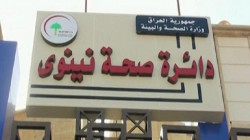 2023-08-19T14:36:49+00:00
Shafaq News / According to a security source in Nineveh governorate, on Saturday, a child was killed and another was injured due to the explosion of an ordnance leftover from ISIS in the eastern outskirts of Mosul, the governorate's center.
The source reported to Shafaq News Agency that "a wartime projectile, a remnant of ISIS, exploded after a waste dump was set on fire in al-Samah area, east of Mosul, resulting in the death of a child and the injury of another who were near the explosion site."
The source added that "a security force swiftly responded to the scene, transporting the injured to a nearby hospital for treatment and the deceased body to the forensic department. The area was also evacuated as a precautionary measure."