Iraq's Prime Minister addresses key issues on global stage at United Nations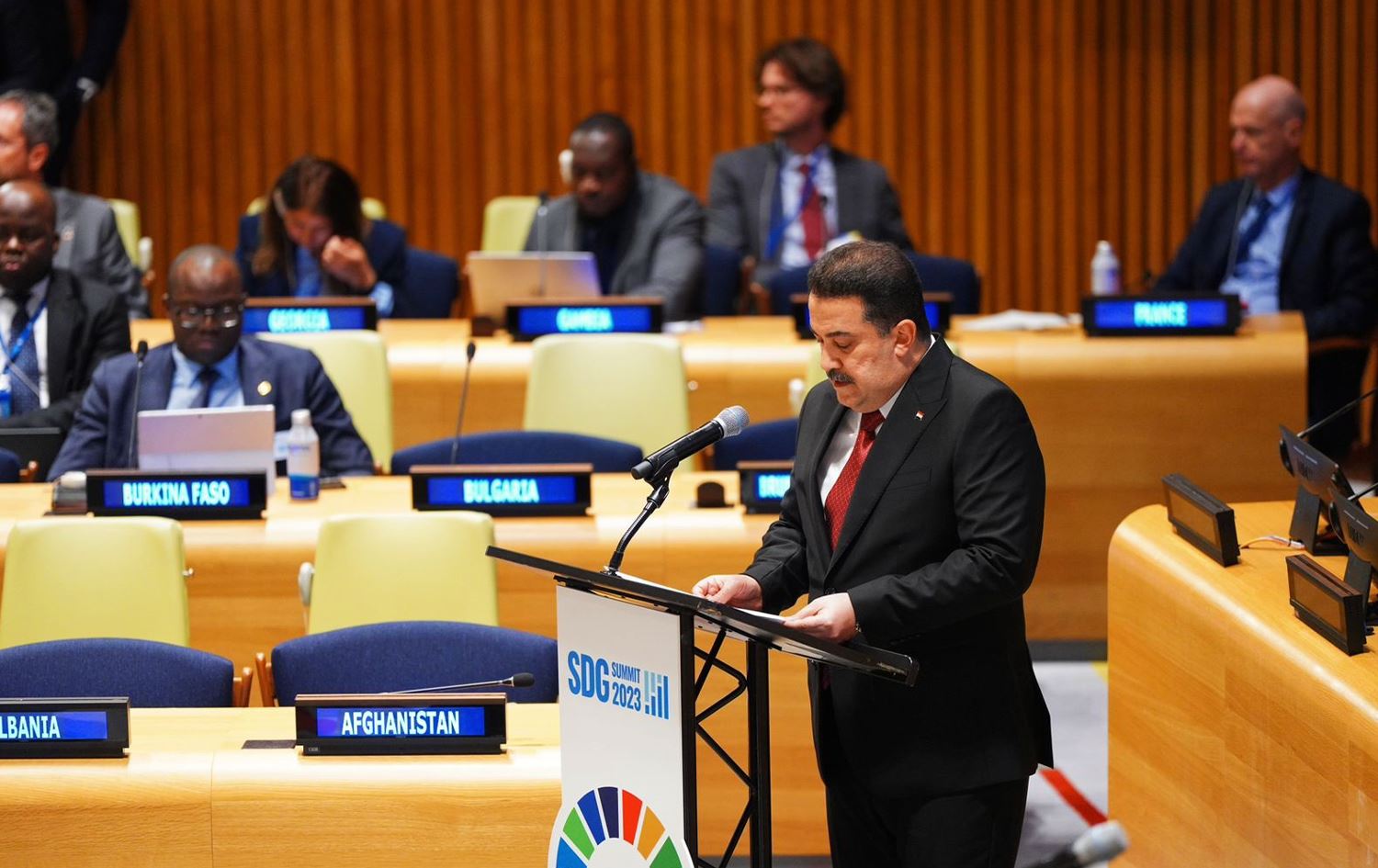 2023-09-21T16:27:48+00:00
Shafaq News/ The Iraqi Prime Minister Mohammad Shia Al-Sudani, on the sidelines of the United Nations General Assembly's 78th session, told Bloomberg in an interview that Iraq's vision seeks an active role in the global gas market emphasized adherence to oil agreements, and revealed the nation's stance on foreign military presence.
Oil and Gas Policies
Al-Sudani highlighted Iraq's commitment to agreements with OPEC and OPEC+ member countries, aiming to balance the interests of both producers and consumers. Part of this strategy includes directing a portion of Iraq's oil production to refineries abroad, including discussions with Bulgaria, China, and Malaysia.
"We seek a reasonable oil price that benefits both producers and consumers, without a fixed price, with an ideal range between $85-90 per barrel," said Al-Sudani, signaling Iraq's intent to adapt to market dynamics.
Furthermore, Al-Sudani spoke about ongoing investments in natural gas fields, positioning Iraq as an active player in the global gas market.
Kurdistan Region Oil Export
Al-Sudani addressed the suspension of oil exports from the Kurdistan Region, stating, "We await Turkey's actions to resume exports via the Turkish route, especially for oil originating from the Kurdistan Region, consistent with Iraq's overall policy." He highlighted that negotiations with Turkey aim to separate export disputes from legal issues in international arbitration.
Al-Sudani stressed that the cessation of exports harms all parties involved, including Turkey, which relies on export pipeline tariffs.
Foreign Investments and American Companies
He revealed significant projects with TotalEnergies and ongoing discussions with Emirati and Chinese firms, underscoring Iraq's determination to explore its natural gas potential.
"We met with American companies operating in the Kurdistan Region eager to expand their operations in the rest of Iraq. We discussed investment opportunities inviting American companies to engage," he said.
Al-Sudani acknowledged the strategic relationship between Iraq and the United States, which includes activating the strategic framework agreement, collaborating with American companies, and resuming oil exports through the Turkish port of Ceyhan.
Foreign Military Presence
Regarding the presence of foreign forces in Iraq, Al-Sudani stated, "Our official position is clear – there is no need for foreign combat forces in Iraq. We possess capable security services to maintain order."
Al-Sudani revealed ongoing discussions about Iraq's future relationship with the Global Coalition and bilateral cooperation formulas with the United States and other nations.
"We support international efforts against terrorist groups like ISIS and believe in joint training and information exchange programs. Technical committees will determine the specifics," he explained.
He also mentioned that the current foreign presence consists primarily of advisors, and Iraq aims to regulate their roles, locations, and timeframes. An American-Iraqi committee will meet to discuss these matters.
Regional Diplomacy
The Iraqi prime minister expressed Iraq's interest in facilitating understanding and reconciliation between Iran and the United States to maintain regional stability.
"Iraq's foreign policy centers on maintaining relations based on common interests and non-interference in internal affairs."
He emphasized Iraq's desire to maintain a dialogue with the United States to ensure stability in the Middle East, a region of critical global importance.