ISIS revives a strategic camp between Saladin and Diyala and deploys, local officials say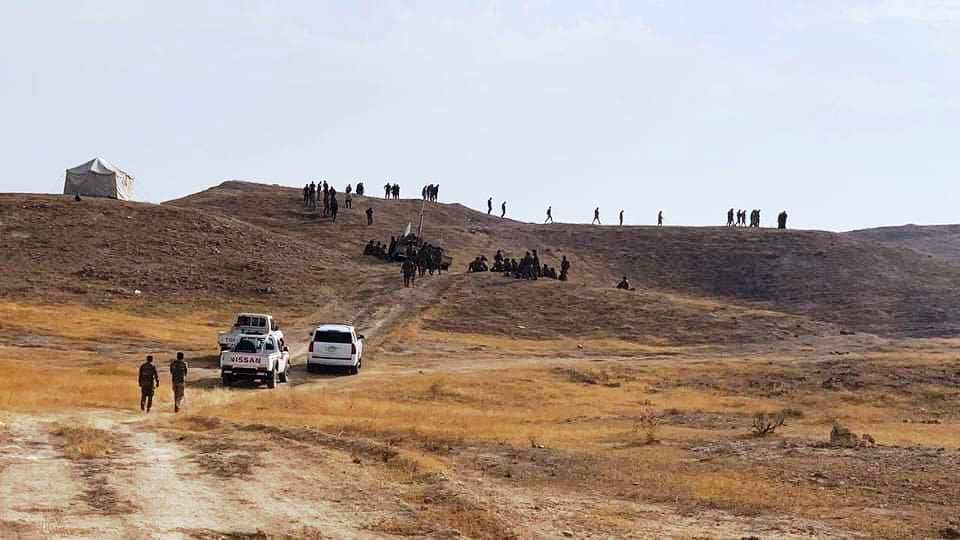 2021-04-13T13:24:16+00:00
Shafaq News/ Security officials in Diyala revealed that the terrorist organization of ISIS revived "Aicha Camp" located at the border areas of Diyala with Saladin, calling for intensifying security operations at this loose area between the adjacent governorates.
The Director of Qara Tapa sub-districts, 113 kilometers to the northeast of Baquba, Hasan al-Tamimi, said in a statement to Shafaq News Agency, "Security operations are effective, but it is not sustainable. It allows ISIS operatives and leaders to flee to other remote areas and villages ahead of the operation then come back afterward."
"Preemptive security operations are thinly disguised. As if they know a priori, so they relocate to another area leaving empty headquarters, except for some equipment," he continued, "ISIS is deploying the empty headquarters tactic."
Al-Tamimi accentuated the importance of the security operations sustainability in the loose area extending between Hamrin and the borders with Saladin and Kirkuk to pursue ISIS militants posing as civilians or farmers in the villages.
The Commander of Nidaa Diyala, Ziham Ismail Al-Jubouri, endorsed al-Tamimi remarks, "the 21 kilometers square area extending from Hamrin mountains in Diyala to Saladin requires comprehensive operations and heavy security presence to prevent ISIS operatives from stationing and organizing their ranks."
"Preemptive and security operations limited their efforts to return to nurturing environment," he added.
The camp is located between the borders of the two sub-districts of Al-Azim and Qarah Tapa, north of Diyala. It was the largest outpost of the organization's militants over the past years. Al-Qaeda militants used to use it before that.
Although it is called a camp, it is, in fact, composed of only small caches, tunnels, and depots of weapons and explosives. It served as a major launching pad for ISIS attacks in Diyala, Kirkuk, and Saladin before it was destroyed in 2014.
It seems that ISIS militants have taken refuge in their old sanctuary whenever possible during recent months and then disappear again.