Commander of Iran's Quds Forces unexpectedly visits Baghdad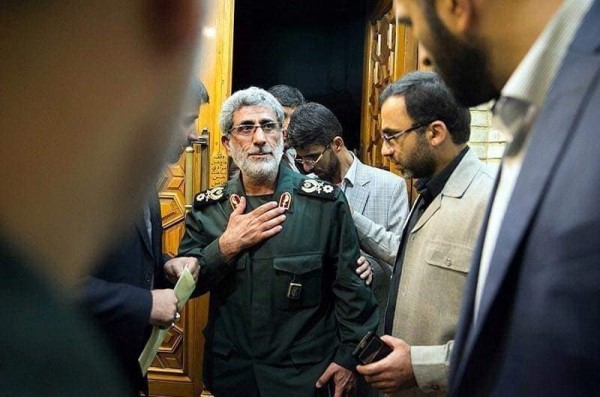 2023-03-30T19:39:43+00:00
Shafaq News/ Ismail Qaani, the commander of Iran's Quds Forces, arrived in Baghdad on Thursday evening for an unannounced visit.
Qaani is expected to meet with Prime Minister Muhammad Shia al-Sudani and other political leaders during his visit.
According to Shafaq News sources, Qaani's meetings will cover various political and security issues, including recent developments in the relationship between Tehran and Riyadh and Iraq's role in this regard.
Qaani has visited Baghdad several times since the parliamentary elections in October 2022, including both announced and unannounced visits.
His visits have taken place amidst a political crisis following the election results, as well as during the talks to form a new government.
It is worth noting that Iran significantly influences Iraq due to various political, economic, and cultural factors. Since the fall of Saddam Hussein's regime in 2003, Iran has sought to increase its influence in Iraq, leveraging its ties to Iraqi Shia political parties, militias, and religious leaders.
Except for the leader of the Sadrist Movement, the Iraqi Shia political parties that have played a key role in shaping Iraq's post-Saddam political landscape are considered close to Tehran.
Iran has also provided significant financial and military support to Iraqi Shia forces, such as the Popular Mobilization Forces (PMF), which have played a crucial role in the fight against ISIS.
In addition to these factors, Iran's economic ties with Iraq have also helped deepen its influence. Iran is a significant trading partner with Iraq.
Iran has also invested heavily in Iraq's energy sector, including through the construction of gas pipelines and the provision of electricity.
While Iran's role in Iraq has been a source of concern for some countries, particularly the United States and its regional allies, Iran's relationship with Iraq will likely remain an essential feature of the wider regional geopolitical landscape for the foreseeable future.