Ukraine appeals to NATO chief for membership and more arms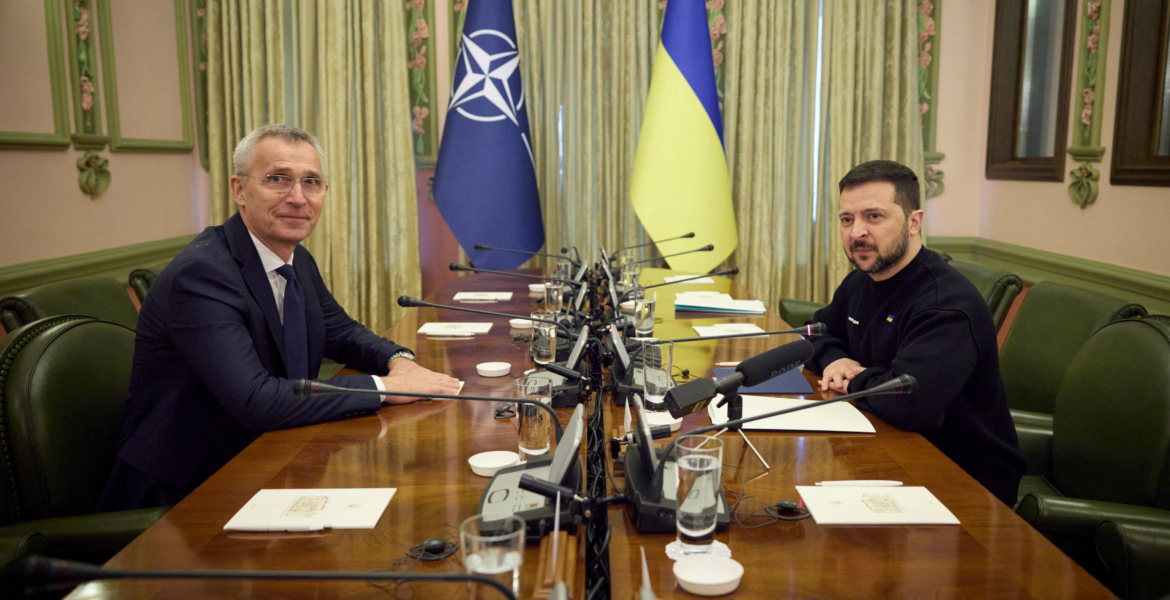 2023-04-21T12:00:04+00:00
Shafaq News / Ukrainian President Volodymyr Zelenskiy told visiting NATO chief Jens Stoltenberg on Thursday it was time for the military alliance to offer his country membership and that Kyiv needed more weapons to fight Russia.
Zelenskiy made his comments at a joint news conference after talks with Stoltenberg, who offered NATO's solidarity with Ukraine on his first trip to Kyiv since Russia's full-scale invasion nearly 14 months ago.
The NATO secretary-general's visit was likely to irk the Kremlin, which said earlier on Thursday that one of the main goals of its "special military operation" in Ukraine was to prevent it joining what Moscow regards as a hostile bloc.
Zelenskiy said he believed a NATO Summit in Vilnius in July could become "historic" and that he had been invited to attend.
"I am grateful for the invitation to visit the summit, but it is also important for Ukraine to receive the corresponding invitation," Zelenskiy said.
"There is no objective barrier to the political decision to invite Ukraine into the alliance and now, when most people in NATO countries and the majority of Ukrainians support NATO accession, is the time for the corresponding decisions."
NATO has supported Ukraine throughout the war, with member states supplying it with weapons, but Zelenskiy said more were needed. All delays in receiving more weapons caused deaths in Ukraine, he said.
Stoltenberg said Ukraine's rightful place was in the North Atlantic Treaty Organization, and that membership and security guarantees for Ukraine would be high on the agenda of the alliance's July summit.
"Mr President, I am here today with a simple message: NATO stands with Ukraine," he said. "NATO stands with you today, tomorrow and for as long as it takes."
Ukraine announced a bid for fast-track membership of NATO last September after the Kremlin said it had annexed four Ukrainian regions that its troops have partially occupied.
(Reuters)