Iraq and UN discuss speedy implementation of legislation for reform and elections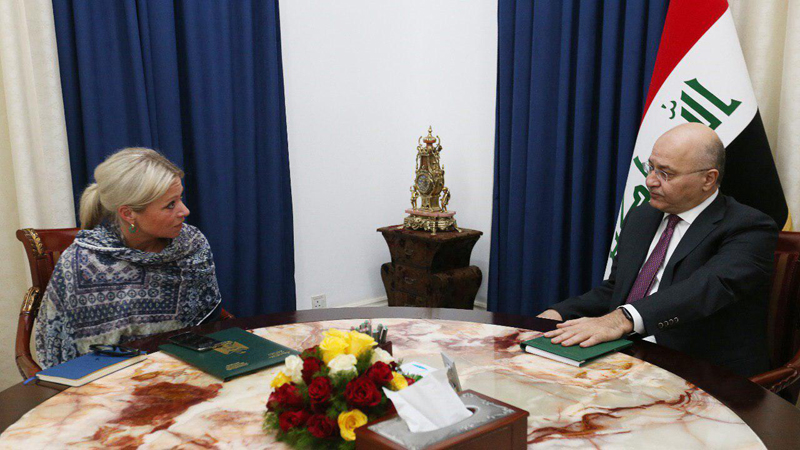 2019-12-08T12:42:29.000000Z
Shafaq News / The President of the Republic, Barham Salih received on Sunday, at al-Salam Palace in Baghdad, the Special Representative of the Secretary-General of the United Nations in Iraq, Jenin Hennes-Blachart.
A statement of the President's Office, received by Shafaq News, said that "during the meeting, deliberations were held on the current conditions the country is going through, and ways of possible solutions that help protect the security and stability of Iraq and the aspirations of the people for reform."
The statement added, "The right of citizens to peaceful free demonstrations , the responsibility of the competent state agencies to work to protect peaceful demonstrators to preserve the state's public security and the rights and property of citizens and not to allow chaos and everything that may distort the peaceful nature of the demonstrations was emphasized."
In this regard, it was also emphasized that "the horrific crime that targeted the demonstrators last Friday that resulted in martyrs and injuries was carried out by gangs outside the law generally targeted the security and stability of the country and what is required in both cases to intensify and strengthen security measures , arrest the perpetrators of the crime , refer them to a fair justice and work accurately to prevent the repetition of this heinous criminal act, "according to the statement.
In the political track, the meeting dealt with the constitutional mechanisms and the required political action for the speedy completion of the legal legislation necessary for reform and for holding fair elections, as well as the procedures for selecting an appropriate candidate to head the Council of Ministers for the next stage.