Shafaq news publishes the cabinet's decisions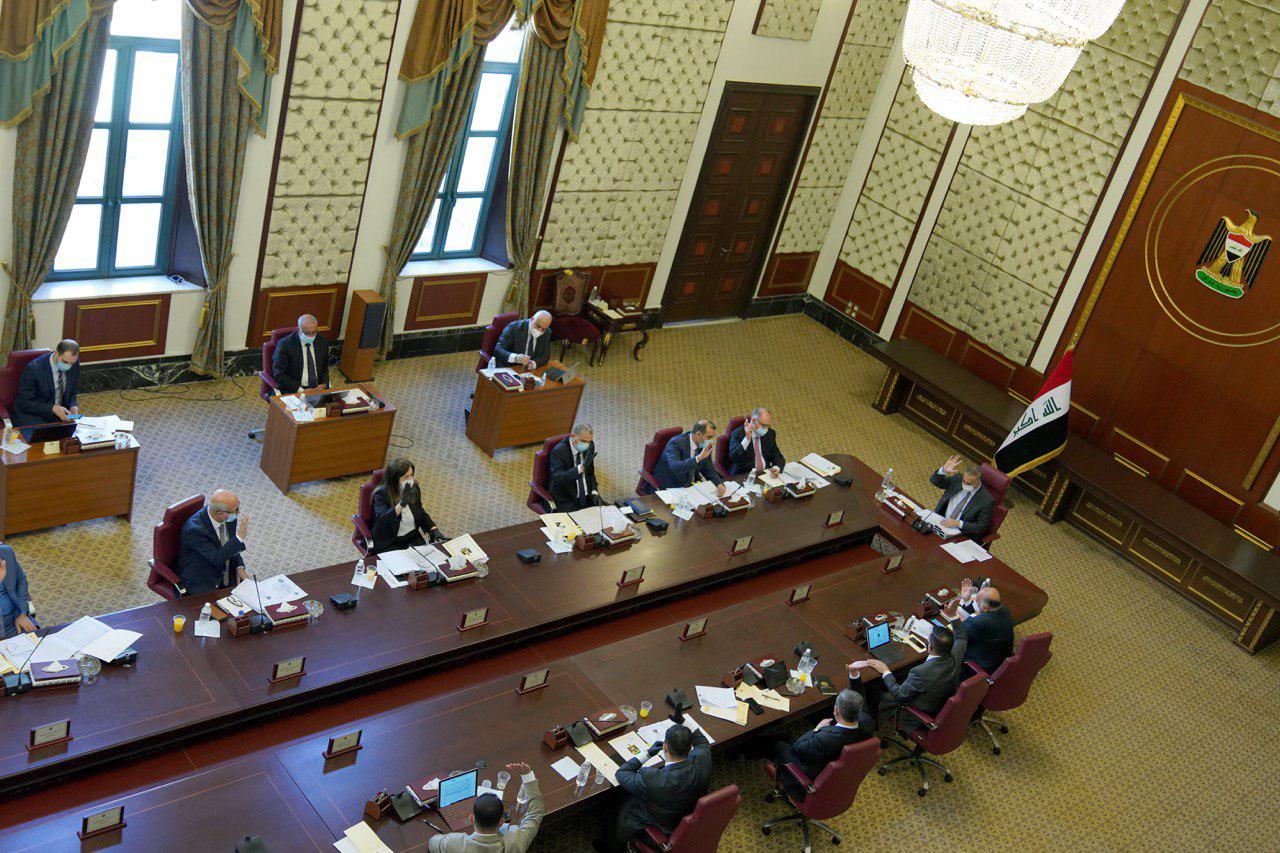 2020-08-11T18:18:14.000000Z
Shafaq News / The Council of Ministers held its regular session, today, Tuesday, August 11, 2020, chaired by the Prime Minister, Mustafa Al-Kadhimi, and discussed its agenda taking several decisions.
The Cabinet began its session by discussing developments about the Covid-19 pandemic, and the Ministry of Health plans in the areas of prevention and awareness.
The Cabinet approved the following:
· With regard to the victims of the demonstrations:
1- Inclusion of the martyrs and wounded of the October demonstrations to the Martyrs Foundation Law No. 2 of 2009
2- Instructing the Ministry of Health to form medical committees of various specializations to monitor the health status of the wounded. And provide the necessary treatment for them.
3 - Refer the injured who cannot be treated inside Iraq to the relevant committee in the Ministry of Health and facilitate their treatment outside Iraq.
4- Inclusion of victims of the October 2019 demonstrations with health insurance.
5- Include a draft amendment to the Persons with Disabilities and Special Needs Law No. 39 of 2013, to include the disabled and injured victims of the protest movement in October 2019
· With regards to Different things
1- The Ministry of Education completes contracting procedures with government presses and some private presses
2- Maintaining the contract with companies importing machinery and equipment dated December 16, 2019
3- Approval of statement No. (12) And recommendations of the Diwani Order (45 of 2018) regarding hospital projects.
· In the regard of Dhi Qar Governorate
1-Allocation of 50 billion dinars to Dhi Qar Governorate
2- Exemption of Dhi Qar Oil Company from the instructions for implementing the federal budget, and instructions for implementing government contracts No. 2 of 2014
3- Approval of providing government departments with deferred gear material from the Ministry of Oil in implementing projects for Dhi Qar Governorate.
4- Completion of maintenance work for the Dhi Qar Bridge
5- Transferring a surplus amount of 20 billion dinars from the operating budget to the investment budget.
6- Providing municipal departments in Dhi Qar governorate with all requirements for street rehabilitation
7- Signing the contract for the Nasiriya International Airport project by the President of the Civil Aviation Authority, in coordination with the General Secretariat of the Council of Ministers.
• With regard to the electricity sector, the Council of Ministers approved a number of decisions on securing electricity, maintenance and others