Putin visits Mariupol as part of surprise tour of occupied Ukraine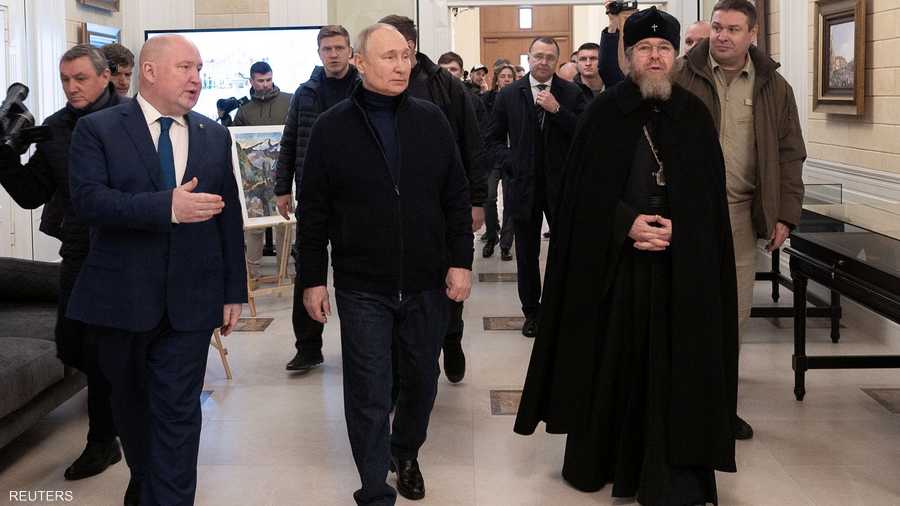 2023-03-19T08:12:07+00:00
Shafaq News / President Vladimir Putin made a surprise weekend visit to the war-ravaged port of Mariupol, state media reported, the Kremlin leader's first trip to the Russian-occupied territories of Ukraine's Donbas region since the conflict began.
The visit came after Putin travelled to Crimea on Saturday in an unannounced visit to mark the ninth anniversary of Russia's annexation of the peninsula from Ukraine, and just two days after the International Criminal Court (ICC) issued an arrest warrant for the Russian leader.
Putin is yet to comment publicly on the ICC warrant, but his trips into Ukrainian territory claimed by Russia was seen by some observers as an act of defiance.
Mariupol fell in May after one of the war's longest and bloodiest battles, marking Russia's first major victory after it failed to seize Kyiv and focused instead on southeastern Ukraine.
The Organization for Security and Cooperation and Europe (OSCE) said Russia's early bombing of a maternity hospital there was a war crime.
Putin flew by helicopter to Mariupol for "a working trip", Russian news agencies reported citing the Kremlin. He travelled around several districts of the city, making stops and talking to residents.
It is the closest to the front lines Putin has been since the year-long war began.
The ICC issued an arrest warrant on Friday against Putin, accusing him of the war crime of illegally deporting hundreds of children from Ukraine, a highly symbolic move that isolates the Russian leader further.
While Ukraine's President Volodymyr Zelenskiy has made a number of trips to the battlefield to boost the morale of his troops and talk strategy, Putin has largely remained inside the Kremlin while running what Russia calls its "special military operation" in Ukraine.
Kyiv and its allies say the invasion, now in its 13th month, is an imperialistic land grab that has killed thousands and displaced millions of people in Ukraine.
(Reuters)