Owner of ill-fated banquet hall in Hamdaniya detained by Kurdistan's Asayish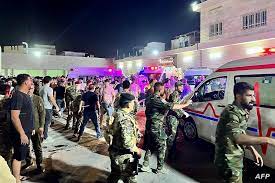 2023-09-27T15:43:09+00:00
Shafaq News/ Kurdistan's internal security forces (Asayish) has arrested the owner of the banquet hall engulfed by the deadly blaze in Nineveh's Hamdaniya yesterday, the region's Security Council announced in a press release on Wednesday.
The tragic fire claimed dozens of lives last night, sending shockwaves through the country and eliciting demands for swift action and accountability.
Earlier today, the Federal Ministry of Interior issued arrest orders for several individuals, including the hall owner identified as Samir Sulaiman Kromi Rafo Aso.
"Following the receipt of the arrest warrant, the Kurdistan region's security institutions in Erbil promptly apprehended the owner," the council said.
The statement affirmed that the owner was in custody and has been handed over to the Federal Ministry of Interior.