Kurdistan's president sees oil export halt as an opportunity for Baghdad and Erbil to address oil disputes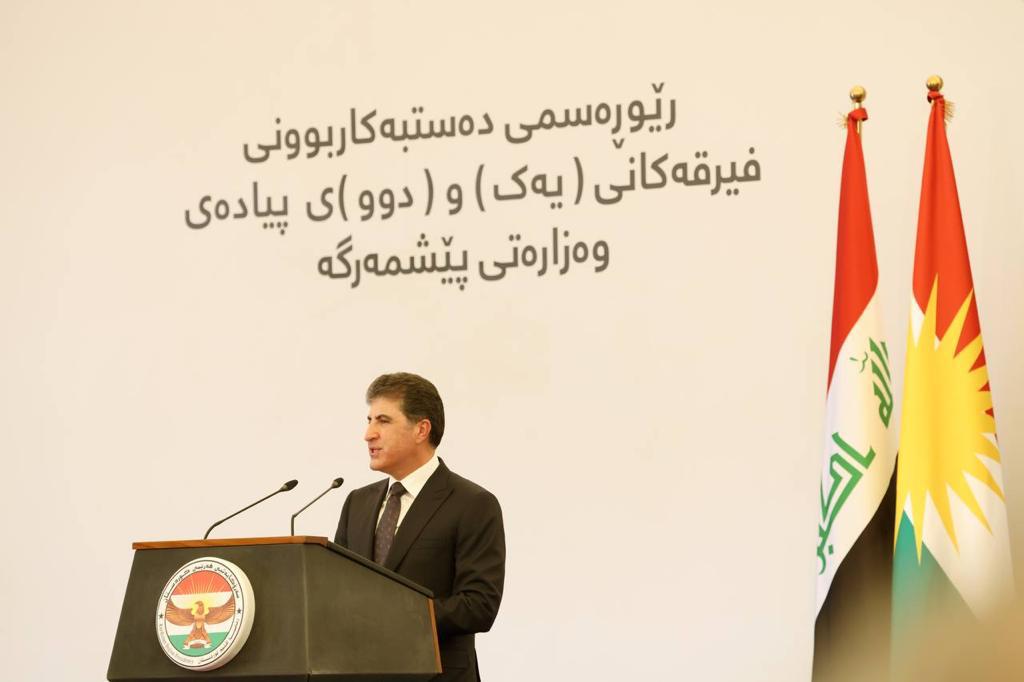 2023-04-04T11:53:50+00:00
Shafaq News/ The president of the Kurdistan region, Nechirvan Barzani, has described the recent decision by the International Chamber of Commerce's arbitration body to halt oil exports via the Turkish port of Ceyhan as a "crucial opportunity" for both Erbil and Baghdad to resolve their long-standing dispute over oil exports.
Speaking at the inauguration ceremony of the first and second divisions of the Peshmerga forces, President Barzani underlined that the decision upholds the constitutional right of the Kurdistan Region in the oil file and presents an opening for all parties to reach a solution that serves the best interests of all Iraqis.
The President of the Kurdistan Region also asserted that the enactment of the Oil and Gas Law would activate Article 112, which would, in turn, pave the way for the application of federalism outlined in the Iraqi constitution.
"We are a very important part of this country, and we support Prime Minister Mohammad Shia al-Sudani in all his steps, and we support his government program," he said.
Barzani also commended Al-Kadhimi's realistic approach to resolving disputes and urged the Kurdistan Regional Government (KRG) to support his initiatives.
Barzani emphasized a significant degree of understanding between the Prime Minister of the Kurdistan Region, Masrour Barzani, and his Iraqi counterpart, noting that the reciprocal visits between the two governments have helped advance the efforts to address the Baghdad-Erbil dispute.
Regarding the ongoing oil issue, Barzani stated that Prime Minister Masrour Barzani is currently in Baghdad to work towards a successful solution to the file, stressing that "an Iraqi solution is the most favorable approach to this issue and would open the doors to resolving several other pressing problems."
"We are ready to reach an agreement based on the Iraqi constitution," he concluded, "solving the oil problem and approving the budget will herald a momentous and joyous announcement for all Iraqi people."