Al-Sudani and UK Security Minister confer on transnational crime accord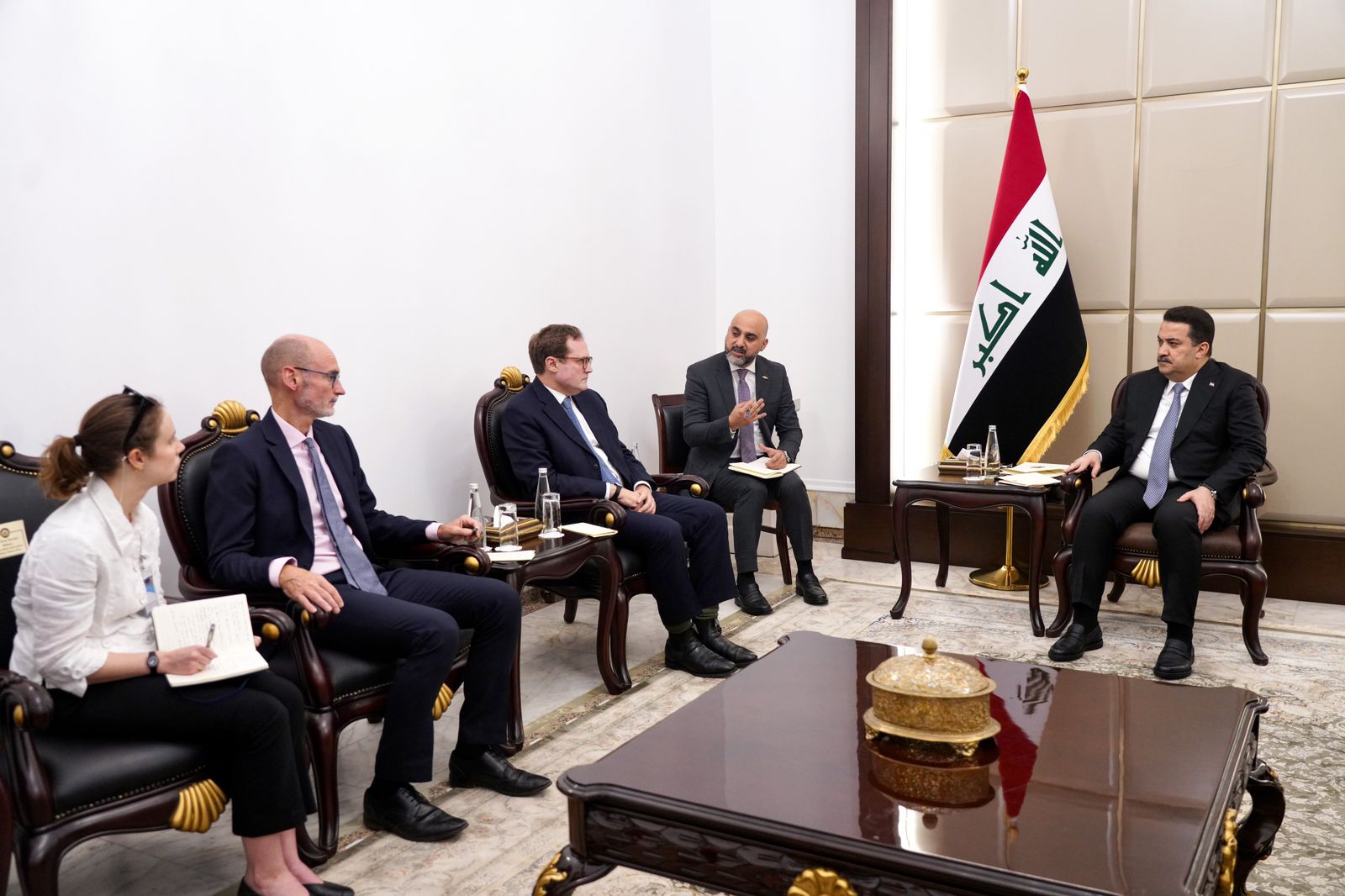 2023-08-21T13:54:43+00:00
Shafaq News / Iraqi Prime Minister Mohammed Al-Sudani affirmed the significance of aligning with the United Kingdom on Monday. The premier underscored the importance of collaborative endeavors with the British counterparts to curb smuggling, human trafficking, drug trade, and facilitate the repatriation of funds and individuals sought by the judiciary. He warmly welcomed the impending signing of the joint memorandum of intent, set to transpire between the interior ministries of both nations.
The Prime Minister's media office, in a statement, announced that Al-Sudani hosted British Minister of State for Security, Tom Togendhat, and his accompanying delegation earlier today. The meeting, marked by diplomatic amicability, constituted discussions that spanned the bilateral rapport between the countries and the avenues to enhance mutual cooperation, especially in the realms of security, defense, counter-terrorism, and the fight against corruption.
Commending the unwavering support extended by the United Kingdom to Iraq and their shared commitment to eradicating ISIS, Prime Minister Al-Sudani stressed the gravity of harmonious efforts to curtail border-crossing criminal activities. In particular, he emphasized the imperativeness of joint action in countering the perils of cross-border smuggling, human trafficking, narcotic trade, and the circulation of psychotropic substances. Furthermore, he emphasized that the pursuit of eradicating corruption is a grassroots demand and a peril that transcends the confines of Iraq to jeopardize global stability, according to the statement.
Quoting Al-Sudani from the statement, the Prime Minister reiterated that his government has devised a national strategy to combat human trafficking in Iraq for the period of 2023 to 2026. Additionally, a national strategy to combat drugs and psychotropic substances for the years 2023 to 2025 has been formulated, showcasing Iraq's steadfast commitment to combating these societal scourges. The statement noted the significant efforts that Iraq has undertaken in this domain.
Furthermore, Al-Sudani warmly received the upcoming signing of the joint memorandum of intent, intended to be established between the Iraqi and British interior ministries. The preliminary draft of the memorandum of understanding between the two nations was also greeted with enthusiasm.
On his part, Minister Tom Togendhat expressed the United Kingdom's readiness to bolster the Iraqi security forces through the provisioning of cutting-edge technologies. He commended the Iraqi security apparatus in all its facets for its valiant efforts in countering terrorism and quelling the influence of the terrorist organization ISIS, underscoring its pivotal role in sustaining the nation's security stability.