134 casualties in demonstrators in an Iraqi province and others continue strikes and sit-ins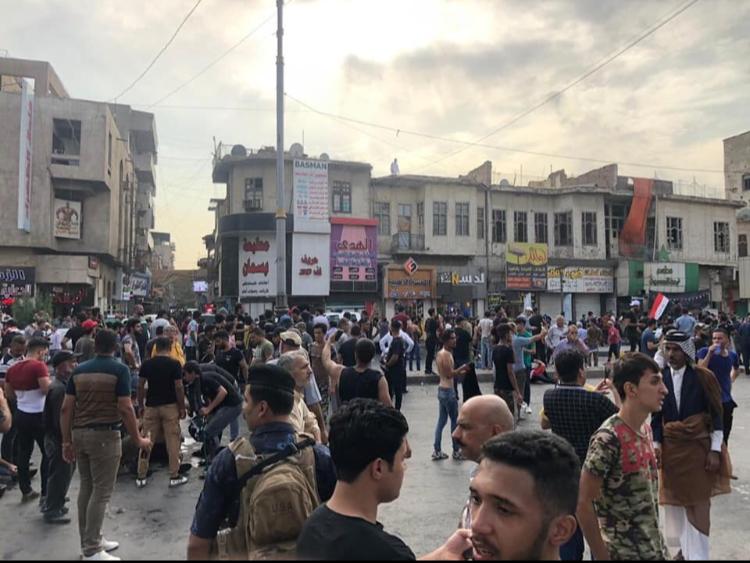 2019-11-11T09:23:35.000000Z
Shafaq News/ The provinces of central and southern Iraq continued on Monday strikes and sit-ins in protest against the failure of the federal government to respond to the demands of the demonstrators, and continued repression and killing against them.
The High Commission for Human Rights in Iraq said in a statement today that it monitored "the unfortunate events that occurred in the center of Dhi Qar province (10th of November, 2019) near the Directorate of Education and Teachers' Union between the demonstrators and riot forces on the background of the official working hours, resulting in the death of (4) and 130 security forces and demonstrators injury, some of the cases were serious."
"The commission documented the arbitrary arrest of 34 demonstrators, the spread of demonstrators in the neighborhoods of the city , their attempt to close government departments and the distribution of leaflets in city Nasiriyah inciting the need to close all government departments," the statement said.
"We condemn the violence and the misuse of tear gas, sound bombs, Molotov cocktails, rocks and sharp tools by security forces and a number of demonstrators, which caused casualties between the two sides," the statement said.
The statement called on "the demonstrators to cooperate with security forces to restore life to public facilities, schools, universities and departments in a way that enhances human rights , perpetuates the provision of humanitarian services to citizens and calls on all parties to stay away from clashes and commit to the peaceful demonstrations."
Shafaq News reporters added, that " closing the education building continued and the funeral of one of the dead demonstrators in Dhi Qar."
HE added that "hundreds of protesters are now joining the sit-in square of school students in the province, which lies in southern Iraq."
"The riot forces are trying to disperse the demonstrators in front of the education of Babil province, while the strike of students of Babylon University and students of a number of schools continued with the closure of the education department of the province," the reporters said.
Students from Qadisiyah University and high school students in Diwaniya continued, as demonstrators continued to flock to the central square.
Students in Maysan province continued their strike and went to the demonstration square, according to the reporters .