100 lawsuits filed against trespassers of archaeological sites in Diyala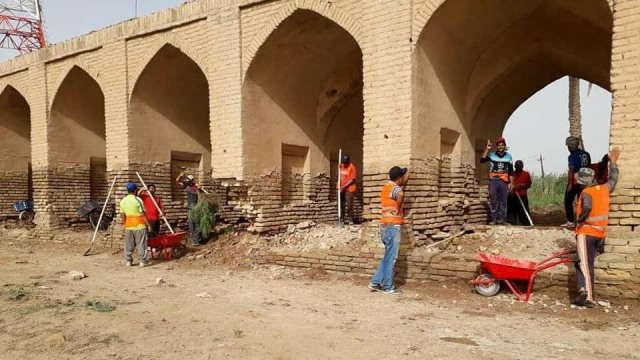 2020-09-14T09:23:30.000000Z
Shafaq News / The Diyala Archeology Inspectorate revealed on Monday that more than 100 lawsuits have been filed against the trespassers of archaeological sites in the governorate, stressing that legal measures will be taken against them.
The director of the Diyala Archeology Inspectorate, Faisal Muhammad, said in an interview with Shafaq News agency that his department, in coordination with the Antiquities Protection Police Directorate, had instituted more than 100 lawsuits against trespassers on archaeological sites, including farms, laboratories and residential homes, stressing that judiciary sentences were issued against many of them.
Muhammad explained, "some of the transgressors responded to the judicial procedures, while financial fines were imposed on some of the transgressors", calling on citizens, "not to overtake and prejudice the forbidden archaeological sites due to the difficulty of the law and its strict legal procedures".
The director of the Archeology Inspectorate complained about a shortage of guards and the failure to compensate the deceased and those who were referred to retirement, which caused a significant decrease in the number of guards and increased the abuse of archaeological sites.
Archaeologists and specialists in Diyala warn of the disappearance of more than 800 archaeological sites scattered throughout the districts and sub-districts in the governorate due to the absence of rehabilitation, maintenance and abuses by the people in addition to the failure to secure the sites.
Diyala includes famous archaeological sites, the most prominent of which is the Great Dam, which was named (the Great Dam); an ancient stone dam located on the Great River and dates back to the Sasanian era. The dam is located in the city of Al-Khalis and Qantara Bahriz, located on the Khurasan River inside the city of Buhriz.
The governorate also includes Al-Zindan site in Al-Muqdadiya district, which is a historical archaeological fortress; Haj Yusuf site in Mandali, which includes the springs of sulfur water; the archaeological site (al-Khan) in Bani Saad district, which the district was named after; and the site of Tal Asmar in Buhriz district, in addition to a group of archaeological and heritage buildings in Baqubah, Mandali and Khanaqin.
Diyala officials attribute the neglect of archaeological sites to the policies of the former regime, the wars that the country lived through and the economic blockade before 2003, in addition to the deterioration of the administrative and security situation of the governorate after the fall of the regime and the control of armed groups in about two-thirds of its area.